 Heroin was hidden in carpets, court told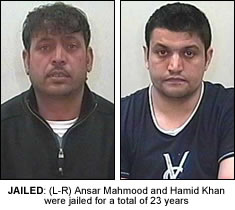 TWO men who tried to import half a million pounds worth of heroin hidden in carpets into the country have today been jailed for a total of 23 years.
Ansar Mahmood, 42, from Bradford, and 31-year-old Hamid Khan, from Burnley were sentenced at Bradford Crown Court today.
Mahmood was jailed 12 years while Khan was given an 11 year sentence.
The drugs haul was seized in April 2008 by officers at HM Revenue and Customs at Heathrow Airport.
West Yorkshire Police were alerted after Customs officers found 10.5 kilos of heroin inside a containment of carpets which were destined for Bradford.
Mahmood was arrested by West Yorkshire Police's Crime Division officers four days later when officers carried out a controlled delivery of the carpets.
Hamid was arrested three days later in Burnley.
Mahmood was found guilty following a trial and Khan pleaded guilty in July 2009.
Detective Inspector Pete Darbyshire said: "We welcome the sentences passed today and hope they send out a strong message that the importation of drugs into West Yorkshire will not be tolerated.

"The methods of concealment used to import the Heroin were very sophisticated and involved a great deal of organisation, however, thanks to the vigilance of those who monitor what enters the country, the drugs were taken out of circulation and the conspirators plan was thwarted."