 Melissa Maharaj awarded for security campus work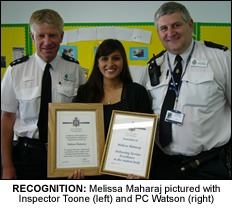 A UNIVERSITY of Leicester Law student has proved she is an award winner when it comes to looking after the interests of her fellow students.
Melissa Maharaj was presented with awards recognising her community-minded endeavours by Inspector Richard Toone, commander at Welford Road Police Station.
The student worked closely with Campus Park Police Officer PC Harvey Watson to implement security measures for her fellow students.
Melissa was nominated for the award by PC Watson who said the panel unanimously voted her the winner.
Reacting to her accolade, Melissa said the award was a "pleasant surprise".
"I did not expect to get such a great 'thank you' in the form of these prestigious awards for doing my job, she said. "It is always nice to be recognized for hard work."
Campus Park Police Officer PC Harvey Watson added: "Melissa Maharaj has worked extremely closely with us and the students in the community this year and as a result has had a great impact in the quality of life of some international students."