 Jashbhai Patel knifed to death in bunged robbery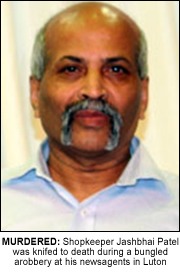 A LUTON shopkeeper who was stabbed to death in a bungled robbery was "ashamed" of how much the city he loved had changed.
Jashbhai Patel, 59, died at the Luton and Dunstable Hospital on Sunday night just hours after he was stabbed to death at the newsagents he ran with his family.
In an emotional tribute, his family said their father had become "ashamed" at how much the city had changed over the years.
Mr Patel, who had served his community for over 25 years, was attacked in the early hours of Sunday morning at the Moon's newsagents in Park Street.
A post mortem confirmed he died of multiple stab wounds.
In a statement released by Bedfordshire Police, Mr Patel's wife, son and daughter described him as a "caring, loving and friendly person".
"Our shop was the highlight for all of the customers in the morning, a place where everyone stopped to have a chat with dad and his good friend Alan," the statement said. 
"Dad loved his family without boundary and will be sorely missed now and will always be in our hearts. He was one in a million for his grandkids and it's hard to express in words what he meant to them and how they will miss him."
They added he was a "great believer in helping others" and "had a heart of gold and would give anything to anyone".
But they said their father had recently become disillusioned with the state of Luton.
"I know that Dad had been ashamed of what Luton was and finally has become and how times have changed. We would like our dad to be remembered for the person he was," the statement said.
This morning Richard Leslie Dettmer, 38, was charged with murder and GBH and appeared before Luton Magistrates Court.
He was remanded in custody and will appear at Luton Crown Court on 30 June.