 Pakistan hit out at unfounded claims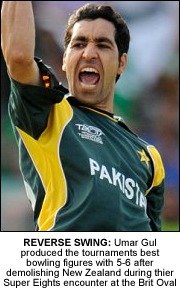 ICC officials have dismissed concerns by New Zealand captain Daniel Vettori about the bowling of Pakistan's Umar Gul during the two sides Super Eights game last Friday.
Gul demolished the New Zealand batting order taking an astonishing 5-6 as Pakistan reduced their opponents to 99 in the weekend match.
But the manner in which New Zealand captain Daniel Vettori raised the issue after being outclassed by their opponents has angered many in the Pakistan camp.
In the press conference following New Zealand's six wicket loss, Vettori admitted he had raised concerns about the amount of reverse swing Gul was getting off the ball.
He said he relayed his concerns to Ranjan Madugalle, the match referee.
"The amount of reverse swing that we saw was new to us and therefore we raised a couple of concerns with the on-field umpires and the match referee," Vettori said. "They relayed back to us that they had no issues at all with the state of the ball. We accepted that and now we move on to our important game against Sri Lanka."
But while the matter is now closed, the implications have angered the Pakistan camp.
"It is disappointing to hear these things," said Pakistan coach Intikhab Alam.
"Umar is a fantastic bowler. Not everyone can bowl a reverse ball. You've got to have a special ability to do that. He's quick and his action makes a lot of difference."
There was also strong criticism from Ijaz Butt, the PCB chairman, over Vettori's comments. "I didn't expect it from a cricketer like Vettori," he told Cricinfo. "I have a lot of respect for him, but he made a statement which is uncalled for. [Gul] would never do a thing like this."
Meanwhile former Pakistan coach Geoff Lawson leapt to defence of his former team saying he was "disappointed" by Vettori's comments.
"My first reaction after reading [Vettori's] comments was of being pretty disappointed," Lawson told Cricinfo. "It sounded as if an issue was being made just because the New Zealand batsmen couldn't play him. There was no great mystery to what he was doing. He was bowling it nice and full and getting it to go just enough, not metres.