 Sameer Karim recognised nationally for his contribution to the legal industry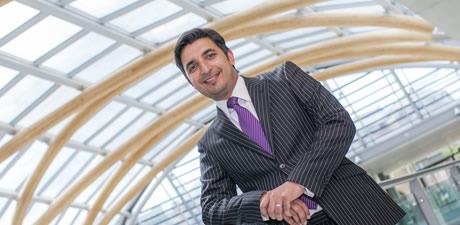 A CITY lawyer has been recognised nationally for his impact on the legal industry and to society by making the shortlist of two awards.
Sameer Karim, CEO of Leicester law firm Douglas Wemyss Solicitors, based in Friar Lane, reached the finals of the English Asian Business awards and Modern Law awards.
Both awards recognised the professionalism and impact made by those who were nominated.
Mr Karim said: "I feel privileged to be recognised for the work that Douglas Wemyss have been doing.
"To be nominated for these awards, which are both unique in their own right, is a real honour since it shows the hard work and dedication with which we drive the business on a daily basis.
"We hope to continue to make an impact and evolving into a market leader with our innovative approach."
The Eclipse Proclaim Modern Law Awards 2013 recognises those who showcase talent and success in entrepreneurship in the modern legal services arena. Mr Karim was nominated for Modern Lawyer of the Year Award.
The English Asian Business Awards honour the determination, hard work and personal achievements of England's Asian business men and women.
Earlier this year, Douglas Wemyss won the small business award at the Leicester Mercury Business Awards. Mr Karim was recently named by the Leicester Mercury publication as one of "The Most Influential People in Leicestershire".