 Row hits Racist's Mosque threat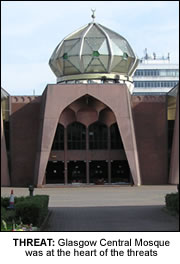 A ROW has broken out in Scotland over the case of a man who threatened to blow up Glasgow Central Mosque andbehead Muslims living in the city.
Neil Macgregor pleaded guilty at Glasgow Sheriff Court to sending a race hate email to Strathclyde Police threatening to blow up the city's biggest Mosque.
The 35-year-old also threatened to behead one Muslim a week in response to the killing of Ken Bigley who was kidnapped and beheaded in Iraq in 2004.
But a lack of media coverage of the case coupled with the decision to prosecute him with breach of the peace and not terrorism offences has angered Muslims in Scotland.
In one threatening email to police – which led to his conviction – MacGregor, 36, wrote: "I'm a proud racist and National Front member.
"We as an organisation have decided to deal with the current threat from Muslims in our own British way, like our proud ancestors.
"Our demands are very small. Close all mosques in Scotland. We see this is very easy – even you guys can handle that.
"If our demands aren't met by next Friday, we'll kidnap one Muslim and execute him or her on the internet, just like they did to our Ken Bigley."
Bashir Maan, President of Glasgow Central Mosque said he was "surprised" the case hadn't been reported by the media, adding: "I could imagine the controversy and analysis there would have been if he had been a Muslim doing this to non-Muslims."
Osama Saeed, chief executive of the Scottish Islamic Foundation said: "There needs to be some clarity on what the definition of the Terrorism Act is. If he had been Muslim the process by which they would have prosecuted this would have been different."
A Facebook group has also emerged calling for more media coverage of the case. The group materialised shortly after Scottish MSP Frank McAveety laid a motion before the Scottish Parliament expressing his disappointment at the lack of media coverage.
He told Parliament: "[The] media [must] ensure that abhorrent acts of terrorism are covered regardless of the perpetrators."
Yousuf Hamid, who set up the Facebook group, said he was "astounded" the media had chosen to ignore the case.
After writing about his frustrations on his blog, Yousuf said he was inundated with e-mails from fellow Scots supporting his case.
He set up his Facebook group shortly after. The group has generated nearly 1,000 members.
"There are constant stories about terrorist incidents and threats and yet in this instance when there was a terrorist threat against Scotland's biggest mosque there was absolutely no media coverage at all," Yousuf told The Asian Today.
"I am in no doubt that if the roles were reversed and this was a Muslim extremist threatening to blow up a church that there would be coverage on every TV station and national newspapers."
He accused the media of "double standards" saying they were guilty of creating "a narrative where terrorists are one group and the victims are another and when the roles are reversed then it is just not on their radar at all."
He added: "The media need to look at the Muslim community not as a homogenous block of people who think and act the same but rather as individual people who are bound together by a strong faith but also different in many ways.
"These double standards must not be allowed to continue as they create an 'us and them' culture which plays into the hands of the BNP."
MacGregor will be sentenced at Glasgow Sheriff Court later this month.