 "My world has been destroyed" – Mother of murder victim pays tribute to her son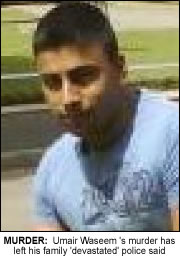 THE mother of a Bolton man who was found dead in Lancashire has made an emotional appeal to help find her son's killer.
The body of 22-year-old Umair Waseem was found in a car park off Moor Road, Anglezarke, near Chorley on Monday 2 February.
When his body was discovered, police revealed Umair's ankles and wrists has been bound with duct tape.
He had severe head injuries and had been subjected to an extremely violent attack, police said.
A post mortem revealed he died from severe head trauma.
Umair, who was an engineering student at Bolton University, lived with his mother, sister and brother.
His distraught mother said her family were still trying to come to terms with his horrific murder. 
She added her son's death had "destroyed [her] whole world".
"We are an honest family. I've worked hard raising my children," she said. 
"Whoever has done this has ripped my family apart and destroyed my whole world.
"Umair was a fun-loving, normal lad who was enjoying university and was an A+ student.
"I am and will always be proud of him and love him very much.
"I'm appealing to anyone who has any information to please come forward and speak to the police to help them catch my son's killer.
"I do not want this to happen to any other family."
Detectives are still trying to trace Umair's last movements.
He was last seen driving around Bolton in a Silver BMW 7 Series car on Sunday 1 February.
Police believe he then hired a car, a black Vauxhall Vectra which was later driven away from the Deane Road area of Bolton by an unidentified man.
Umair remained in the BMW, which police later found parked close to where his body was found.
The Vauxhall Vectra was later found abandoned in Crumpsall.
Detectives from Lancashire are working jointly with officers from Greater Manchester.
Detective Superintendent Jane Antrobus, who is leading the investigation, said detectives were working flat out to find Umair's killers.
He said: "It is clear Umair's death has left his family and friends devastated.
"We're doing all we can to find who murdered Umair, but we still need more information."
Two men, aged 20 and 22, were arrested on suspicion of murder and have been bailed until 9 June pending further inquiries.