 Prem's first Asian player calls for clubs to follow Chelsea's lead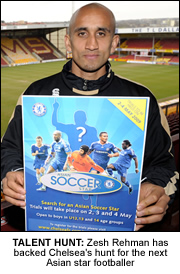 CHELSEA Football Club is launching a search for young Asian football stars of the future.
The club has teamed up with the FA, Kick it Out and the Asian Media Group to launch the 'Search for an Asian Soccer Star' and will be holding open trials for youngsters from Asian backgrounds during the May Bank Holiday.
The initiative is being backed by a number of high-profile football personalities – including the Premier League's first Asian player Zesh Rehman.
The 25-year-old defender, who began his career at Chelsea's west London neighbours Fulham before signing for Queens Park Rangers and subsequently switching on loan to Bradford City in January, believes the scheme is a step in the right direction towards the integration of Asian youngsters.
The competition will provide three young players with the opportunity of a three-day residential trial at the clubs Cobham training ground, working with world class coaches in the Academy.
Rehman, the first Asian to play in all four English professional leagues, believes the lack of numbers coming through the system is due to a scarcity of suitable role models.
"Firstly there is not enough of them to look up to, associate with and aspire to be like. Secondly I think clubs need to take a more active role and engage with the communities, which they are starting to do now.
"You can't pinpoint one reason but all the generalisations don't help – the usual stereotypes that I have grown up hearing and am sick to death of. I use it in a positive way to make the most of everything I had.
"Basically it was you're not strong enough, you're scared of the weather, you have wrong diet, or assuming you like cricket more. These things spur you on to work harder and make people eat their words."
The Pakistani international, capped 10 times, understands that the integration of Asian youngsters into the professional game will be a slow process, but looks to history for support.
"If you look back to the 1970s, black players went through torrid abuse but they showed character and determination to succeed. Just look at Chelsea, there is a large percentage of black players now, and that is the same around the country. It could take another 20, 30 years for that to be the case with Asian players."
With two young British Asian players already at the club, Chelsea would like to see a further injection of Asian talent throughout the game.
"We realise that there is a lack of representation of players from Asian backgrounds within the game and we hope that the competition will help inspire Asian youngsters," said former Chelsea and England star Graeme Le Saux.
"We want to show that race is no barrier to joining our club and that opportunities for Asian players do exist. We are proud of the religious and racial diversity at Chelsea and it is important that all clubs share our ambition that players should only be judged on their talent and their potential," he added. 
Piara Power, Director of Kick it Out, welcomed the initiative.
"Kick it Out is delighted to support this great programme. I hope that the Search for an Asian Soccer Star project will help inspire Asian players to take their involvement further at all levels of the game," he said. 
"For a leading club like Chelsea to provide such fantastic opportunities for Asian players shows they are taking the issues facing Asian participation seriously.''
ASIAN SOCCER STAR – WHAT YOU NEED TO KNOW!
The Search for an Asian Star event will take place on the 2, 3 and 4 May at Chelsea's training ground in Cobham for players in the Under 12,13 and 14 age groups and will be open to London and South-East based players from Indian, Pakistani, Sri Lankan and Bangladeshi backgrounds.
Participants will be judged on a series of matches and tests specifically designed and used by the Chelsea Academy to demonstrate their speed, skills and ability.
The winners from each age group will be offered an initial three-day trial at the Chelsea Academy and any player meeting the required standards will be offered the chance to join some of the country's most talented young players in the Chelsea youth system.
Want to get involved? Places are limited for each day. To register for the