 Abid Hussain looks to fulfil promise made to son months before his sudden death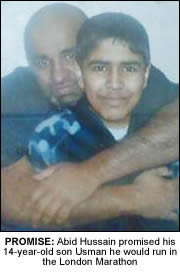 A BIRMINGHAM father who lost his son to a heart condition last year is set to run the London Marathon next month in his memory.
Abid Hussain, from Birmingham, will take part in the annual run in a bid to raise £3,000 in memory of his 14-year-old son Usman who died tragically last year from Dilated Cardiomyopathy -a condition that causes the heart muscle to weaken.
Young Usman was diagnosed with the heart condition in November 2007 and was placed on the heart transplant list at Great Ormond Hospital.
But the budding cricket player lost his fight for survival last May before a new heart could be found.
Now dad Abid is determined to be fighting fit for next month's marathon and fulfil a promise made to Usman just months before he passed away.
"While Usman was alive I told him I would run the London Marathon but he just laughed at me. He told me I wasn't fit enough!", Abid told The Asian Today.
"Usman always used to remind the family that we all belong to Allah and to him we shall return. I was so proud to have a son like Usman which is why I'm so determined to run the marathon next month."
Abid is already working hard in the gym to prepare for the run, and he's calling on the readers of The Asian Today to help him reach his target of £3,000.
The money will be donated to The Cardiomyopathy Association which provides support, advice and information for individuals and families suffering from the same heart condition that claimed Usman's life.
"I am running the marathon in Usman's memory and to raise funds for The Cardiomyopathy Association so they can carry on researching and supporting families who have lost loved ones. It's what Usman would have wanted me to do," Abid said.
"This will be my first marathon and I will try my best. I want to raise as much as I can so if anyone can support or assist me in my fundraising attempt I would be so grateful."