 10-year-old donates life size teddy bear to city hospital in 'thank you' gift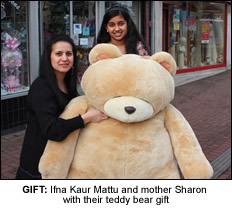 A YOUNGSTER who was rushed to hospital when her left eye began to swell at an alarming rate returned with a gift today for those who helped her in her recovery.
Ten-year-old Ifna Kaur Mattu was so grateful to the staff at Sandwell Hospital and City Hospital she made the journey back with mum Sharon…and a life size teddy bear!
The youngster donated the £200 teddy to Sandwell and West Birmingham Hospitals NHS Trust to thank the staff members who helped get her back on her feet.
Ifna was originally rushed to Sandwell Hospital suffering from a sinus infection which caused her left eye to swell at an alarming rate.
She was seen by a consultant at the hospital but was later transferred to City Hospital where she was treated by ENT Consultant, Mr Matthew Oluwole.
After undergoing a CAT scan to identify the cause of the swelling and coming close to surgery, Ifna received antibiotics which relieved her sinus problems and swelling, enabling her to leave hospital after five days.
"It was a tense couple of days for the family but the treatment she received was great and we're happy she's ok," said Ifna's mum, Sharon Kaur.
Now in good health, Ifna and her family wanted to do something to show just how grateful they are to staff that treated Ifna when she was in need of medical attention.
"We sent thank you cards at the time but we wanted to give more and thought this teddy bear would be a great way to show our appreciation and hopefully the hospital can auction the bear, with the proceeds going towards some new equipment," said Sharon.
A spokesperson from Sandwell and West Birmingham Hospitals NHS Trust said they were "always grateful" for donations made by ex-patients.