 RSPCA deliver cow gift to end Temple dispute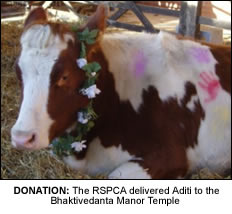 A NEW cow has been delivered to a Hindu Temple as a gesture of goodwill by animal charity RSPCA.
The charity donated the cow, named Aditi, to the Bhaktivedanta Manor Temple in Hertfordshire.
The arrival signalled the end of a year-long dispute with the temple following the killing of 13-year-old Belgian Blue-Jersey cross, Gangotri in December 2007.
The killing of Gangotri sparked criticism after worshippers at the temple claimed the RSPCA slaughtered the sacred cow while they were at prayer.
The temple had claimed the Belgian blue-jersey cross was ill but was not suffering from any disease.
In December the RSPCA apologised for the "hurt and offence" it caused over the incident and promised a new cow would be donated to the temple as a gesture of goodwill.
Kapil Dudakia, the chair of the Gangotri Task Force said, "We trust that the level of awareness has increased and the RSPCA and the Hindu community can work together learning from this unfortunate episode. The arrival of Aditi is a tremendous moment and it is my hope that we do not witness such difficulties again." 
Ramesh Kallidai Secretary General of the Hindu Forum of Britain added: "Whilst the actions of the RSPCA did truly hurt the Hindu community, I am glad that a suitable solution has been found that allows for all key partners to move forward keeping in mind animal welfare and the sentiments of the Hindu community." 
Related Articles: