 Victims family speak of 'unimaginable' loss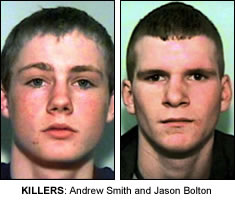 THE FAMILY of a father-of-three who was viciously attacked and killed a year ago have spoken of their pain as two teenagers were locked up for life for his murder today.
28-year-old Asaf Mahmood Ahmed was set upon and brutally attacked by 18-year-old Jason Bolton and 16-year-old Andrew Smith in Bolton last December.
Mr Ahmed, a father-of-three, was beaten for 'fun', Mr Justice MacDuff told Manchester Crown Court.
He sentenced Smith to 13 years' detention while Bolton will have to serve at least 17 years before being eligible to apply for parole.
Mr Ahmed's family spoke today of their loss, saying he was a "quiet, private man who would not harm anyone".
A statement released by the family said: ""He was a good son, brother, husband and father to his three children. We are not a family without him: something is missing. "Asaf's three children will grow up without a father, his two sons without a role model in their lives.

"We have to learn to live without Asaf as the head of the family. We will miss him every day of our lives."
Manchester Crown Court heard how the teenagers set upon Mr Ahmed moments after he left a family party to go to the shops on 21 December.
The pair had been drinking heavily and had earlier attacked another man who escaped.
Witnesses told the court they saw Bolton and Smith kicking, punching and stamping on Mr Ahmed as he lay on the floor.
Bolton was seen kicking Asaf in the head and jumping on his head, while the younger boy beat him about the head and torso, the court was told.
Witnesses also said they heard the pair shouting racial obscenities at Mr Ahmed.
Shortly after the two killers left the scene, Bolton returned where he continued the attack on Mr Ahmed before fleeing for a second time.
By the time police arrived at the scene Mr Ahmed was already dead.
Tests showed he had died from an acute asthma attack as a result of the trauma brought on in the assault.
When police arrested Smith they found a chilling video clip on his phone made an hour after he had attacked Mr Ahmed.
Turning to the phone he is heard to say 'eyes of a killer'.
Mr Justice MacDuff said the attacks were "callous, unprovoked and lacking in humanity", and that the two teenagers had shown no remorse.