 Pakistan handed opportunity over security debacle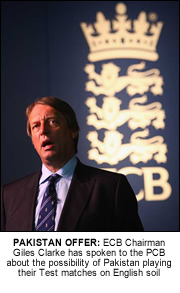 THE England Cricket Board could offer to host Test matches for Pakistan, chairman Giles Clarke has revealed.
Pakistan has seen a number of top nations refuse to play in the country this year over security issues. Earlier this year Australia refused to travel to the country and the Champions Trophy was postponed last month after eight top nations – amongst them England – said they would not take part in the tournament if it was played in the country.
Now the ECB have floated the idea that Pakistan play their Test matches in England.
ECB Chairman Giles Clarke said the move would suit British Asians who have provided huge support for touring South Asian countries when they come to England.
Speaking to the Wisden Cricketer Magazine, Clarke said: "Indeed it might be said that Pakistan might get a better crowd in Leeds than in Karachi. It's something we are considering how we play these types of games and where we can play them.
"I like the idea of providing the opportunity with our fabulous grounds and our huge ethnic minority populations who are keen to see their own heroes. And it may be in the interests of cricket, that's the most important thing for me."
New Pakistan Cricket Board Chairman Ejaz Butt confirmed he had spoken to Clarke about the possible arrangement adding the PCB would give serious consideration to the proposal as Pakistan were in desperate need to play more international cricket.