 British Muslims urged to remain calm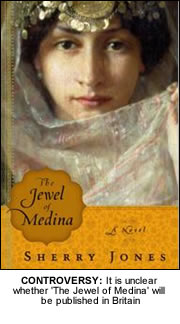 A NOVEL telling the fictionalised version of the life of Aisha – one of Prophet Mohammed's wives – has been published in America.
Furore over 'The Jewel of Medina ' written by Sherry Jones thrust the book into the spotlight after original American publishers Random House dropped the novel following fears it would offend Muslims.
Beaufort Books picked up the book and published it nine days ahead of schedule across the US.
In Britain it remains unclear whether the book will hit the shelves after three men were charged over an arson attack on the offices of London-based publisher Gibson Square.
Leading Muslim groups in Britain condemned the book and urged the Muslim community to remain calm over the situation.
Chief executive of The Ramadhan Foundation, Mohammed Shafiq said: "I am disgusted at the novel and the plans by Gibson Square to publish, this serves no purpose and does little to promote understanding between communities – indeed attacking the central figures of Islam under the guise of freedom of speech is patronising and the world sees their attempt to belittle our faith."
Dr Muhammad Abdul Bari, Secretary-General of the Muslim Council of Britain added: "For many British Muslims, the publication of this book will understandably cause hurt at a time of sustained and increasing vilification of our faith, our community and our cherished figures. We urge the Muslim community to refrain from playing into the hands of sections of the cynical media who are keen on vilifying Islam and Muslims and portraying them as opponents of freedom.
The MCB will also hold a meeting of community leaders later this month to discuss the situation.