 Suspect still being questioned by police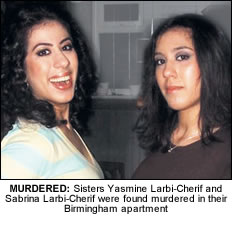 THE FAMILY of two sisters found dead in their upmarket Birmingham apartment have spoken out over their pain at the loss of their "angels".
Yasmine Larbi-Cherif, 22, and Sabrina Larbi-Cherif, 19 were found stabbed to death in what police described as a "sustained and violent attack".
Their bodies were discovered on Monday after family members expressed concern that they had not heard from the pair.
Detectives revealed one or more weapons were used in the attack and there was "a substantial amount of blood inside many of the rooms".
There were also "signs of ransacking" in the fourth floor apartment in the Jupiter Apartments complex in Ryland Street, Ladywood.
Detectives have been given extra time to question a 28-year-old man who was arrested trying to board a ferry hours after the bodies of the two women were discovered.
In a statement released by police, the family of the two sisters said they were "devastated by the deaths of their 'angels'.
Yasmine, who studied bio-chemistry at Birmingham University, and Sabrina who was set to join her older sister at the same university after passing her A-levels, were born in Algeria and moved to England with their parents 10 years ago.
Their family, who live in South Kenton, Wembley, London, said the pair were "dearly loved and very respected by everyone who knew them".
"Due to their Islamic faith and open minded upbringing they were always humble, compassionate, generous and helpful to anyone who knew them", the statement said. 
"Headmasters, teachers, lecturers, friends and neighbours alike are living testimony of their pure human goodness.

"Yasmine and Sabrina will be remembered as a genuine example of a fruitful combination of two different cultures benefiting their native and adoptive country."
Family members said Yasmine was "extremely proud" that her younger sister had decided to study in Birmingham and would be joining her in the city.
"The family have been devastated by their deaths of their 'angels'. Both their mother and father were extremely proud of the way in which the girls lived their lives, working and studying hard, as they had been brought up to do."
West Midlands Police said more than 80 detectives and police staff were "working around the clock on the investigation".