 Foster family appeal to 13-year-old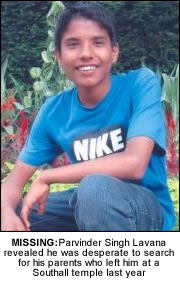 A THIRTEEN-year-old boy has sparked a nationwide search after leaving his foster family to search for his parents who dumped him at a Temple in Southall last year.
Parvinder Singh Lavana left a note to his foster family saying he could not bear the thought of returning to India without his parents.
Police believe believed Parvinder was brought to the UK by his parents in June 2007 and left at a temple in Southall in the care of a friend.
But his parents did not return and he was placed with a foster family in Kent.
Police believe the youngster saved enough money from his paper round before leaving his home.
In a handwritten letter addressed to his foster family, Parvinder said he was "helpless" without his parents.
In the heart wrenching letter he writes: "I am leaving home because I am going to search for my mummy and daddy.
"You all should not worry. If I find my parents, I will not return home. If I do not find them, I will definitely return. I was very happy with all these people at home.
"I am not leaving this home in anger, but I am helpless now – that I cannot go back to India without my parents.
"Therefore, I am now going to search for my mummy and daddy. I do not know where my parents are, but still I will try.
"Nobody knows that I am leaving this home, because if I had told you, you would not let me go.
"J and K, (foster parents) I am very pleased with you, because you gave me a lot of love and care. And I am very pleased with Ab and As (foster brothers) as well. Ab gave me as much love as he gave to As. I will miss all of you very much. Ab, if you like anything from my bedroom, you certainly can have it, because you gave me a lot of love. It will be a gift to you from me."
This is the second time Parvinder has been missing from his foster home.
Last August he was tracked down in Birmingham after leaving home to look for his parents.
Police are now concentrating on new leads which have traced him to London Bridge train station.
DI Alex Phipp of Bromley CID said: "We are very concerned for Parvinder. He is clearly upset that he has been unable trace his family and wants to find them. "However his foster carers and friends are extremely worried about him and want his safe return."
Parvinder's foster family also released a statement urging him to get in touch.
"Parvinder, we know that you love your mum and dad and want nothing more than to be with them", the statement said.
"Please contact the police or us and let us know that you are safe. Then we can help you look for your mum and dad. Please understand you will not be sent to India on your own. The boys and us are missing you. Please come home."