 Police release images of suspects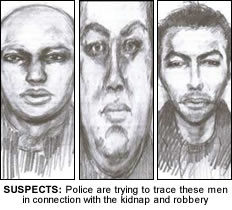 A BIRMINGHAM jeweller was kidnapped and driven at knifepoint to his jewellery shop in a horrifying ordeal police have revealed.
The 62-year-old man, who has not been named, was ambushed by three men as he left his Warwickshire home and was told his family would be killed if he did not let them into his jewellery shop in Birmingham last Friday.
The victim's terrifying ordeal began at 10am last Friday when he left his home in Princethorpe, Warwickshire. One of the suspects lay in wait in nearby bushes and confronted the man with a knife before two other suspects got into the car and bundled the jeweller into the back of his black Mercedes.
After a short drive the group got into a waiting green car before driving into Birmingham.
Detectives revealed the victim tried to alert a passing motorist to his ordeal but was unsuccessful.
When the group arrived at Punjam Zevar Jewellers at Stratford Road, Sparkbrook the victim was forced to reveal the door code to the shop, with the suspects threatening to kill his wife and family and burn his house if he didn't comply.
Once in the shop the robbers suddenly panicked and left the shop, dropping the victim off in a nearby road and stealing his £1800 gold chain, keys to the safe, mobile phone, credit cards and cheque book.
A short time later the victim alerted police.
Later the same day police discovered the Mercedes burnt out in Arcot Rd., Moseley.
Detective Inspector Liam Barry who is leading the enquiry said: "This was an horrific experience for the victim. Not only to be forced into his own car and driven around, but to be threatened with a knife and threats made to his family must have been dreadful. We need the public's help in identifying the offenders."
Anyone who was witness to any part of the incident should call Rugby CID on 01788 541111.