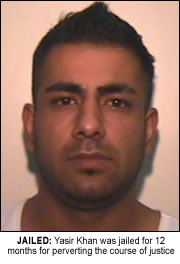 A MAN who tried to frame another man for attempted murder has been jailed for a year.
Yasir Khan, 28, of Shepherd Street, Bury, admitted perverting the course of justice at Bolton Crown Court and was sentenced to 12 months in jail.
This conviction comes after Khan accused a 22-year-old man of firing shots at him because he was witness to a serious assault where another man was shot.

The 22-year-old, Tauyyub Ulshan Amin of Royal Avenue, Bury, was charged with attempted murder and firearms offences after an in depth police investigation appeared to corroborate Khan's account.

The charges were dropped as soon as it became clear Khan had lied, police said.

When confronted by police officers Khan admitted he had tried to frame Amin in connection with another attack on three men, including Khan, in which a 30-year-old man was attacked with machetes and shot at.
Khan had named Mr Amin in connection with that attack and had told police he had been instructed to implicate Mr Amin in the false shooting so he would be 'sent to jail for a significant amount of time', police said.
Detective Sergeant John Charlton said: "An innocent person faced the prospect of spending many years in jail because of Khan's lies. We think he even went so far as to plant a bullet at the scene of the alleged shooting.

"Accusing somebody of firing a gun at you is very serious, and we will investigate the circumstances of such a claim fully. In this case we spent almost 2000 hours of police time, and paid a forensic services bill that ran into the thousands, to get evidence to support Khan's case. All this amounted to a monumental waste of police time.