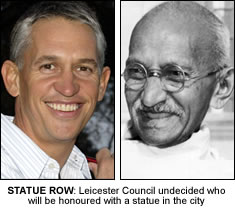 A ROW is brewing in Leicester as the council decides who is deserving of a commemorative statue – spiritual leader Mahatma Gandhi or footballing hero Gary Lineker.
The multi-cultural Midlands city has one of the largest British Asian populations who had submitted planning permission to Leicester City Council last year for the 12ft bronze statue in memory of the Indian leader.
But local's reacted angrily to the plans calling on Council leaders to honour local footballing hero Gary Lineker who played for Leicester City football club.
An online petition titled 'No Gandhi Statue' registered 211 signatures.
Lee Ingram, a Leicester resident who set up the first petition, said the city should commemorate local heroes.
"Gandhi is a historical figure connected to India. He has no connection to English culture or the English, therefore a statue of him would be more suitably erected in India", he told The Independent.
"This would be yet another symbol of segregation in Leicester and it would be something else for the Asian community. We have local heroes here, Lineker or the writer, Joe Orton. In the local paper, I read letters which say Gandhi was a more controversial figure than some believe."
The protest comes after Labour MP Keith Vaz tabled a motion in Parliament calling for the statue to be erected in Leicester's Belgrave district.
Mr Vaz has received support from 30 MPs for the project, and has posted his own online petition on the Downing Street website.
"
The statue would celebrate the life and work of Gandhi as the leading figure of non-violent resistance and as a champion of inter-cultural harmony and cooperation", Mr Vaz said.
Indian charity Samanwaya Parivar has applied to Leicester council for permission to carry out the £15,000 to £20,000 scheme and see the project as a way to showcase the multicultural diversity of the area.
"The statue will be our gift to the city. It will add to the vibrant and multicultural elements of the city since Gandhiji's philosophies of truth, peace and non-violence had no boundaries," Jitendra Acharya, the charity's general secretary, told dnaindia.com.