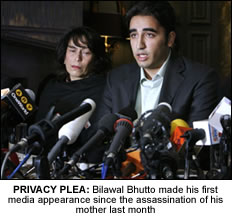 THE SON of assassinated Pakistani opposition leader Benazir Bhutto has made a plea for privacy as he returned to Britain for his studies.
Bilawal Bhutto Zardari addressed a press conference in central London where he pleaded for the world's media to allow him to continue his studies at Oxford University without distraction.
Since the assassination of his mother and his subsequent new role as head of the Pakistan People's Party, the teenager has been the subject of a number of revealing newspaper articles detailing his life as a student at Britain's top university.
Two hoax profiles on the popular social networking website Facebook have also been taken down.
Flanked by party officials and aides the 19-year-old criticised the lengths some journalists had gone to in tracking down his personal details, particularly on the social networking site, Facebook.
"When I am at Oxford I hope I can be left alone," he said.
He said he agreed to take over from his mother because "politics is in my blood".
"Why have I become chairman of the PPP, founded by my grandfather 40 years ago? The answer to this question is because it was recognised at this moment in crisis the party needed a close association with my mother through the bloodline," he said.  
"Also it was important to give hope to the new generation of Pakistanis who are looking not just to these elections but beyond."
"Politics is also in my blood. Although I admit that my experience to date is limited, I intend to learn."
The day-to-day running of the party will continue under the watchful eye of his father, Asif Ali Zardari, until he completes his studies.
He welcomed the assistance of United Kingdom police in the investigation into his mother's death, but reiterated a call for a United Nations-sponsored inquiry.
"We do not believe that an investigation under the authority of the Pakistani government has the necessary transparency," he said.
"Already so much forensic evidence has been destroyed."