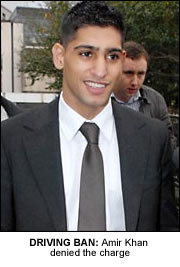 BOXER Amir Khan has been convicted of speeding after he was caught driving in excess of 140mph.
The 21-year-old Commonwealth lightweight champion was found guilty of breaking the speed limit on the M62 in December 2006.
He was banned for 42 days and fined £1,000 by magistrates in Rochdale.
A police officer told the court that his speedometer was "off the clock" at 155mph as he pursued the boxer in his high performance £87,000 BMW 630i convertible on the M62.
PC Paul Saunders said the BMW was being driven extremely fast in the outside lane of the motorway and he decided to give chase.
He said he finally caught up with the boxer after seven miles adding Khan was the sole occupant of the car.
Giving evidence, Khan said he had been returning home to Bolton in Lancashire after visiting some friends in Leeds.
He said he was with two friends, Nassir Arif and Saffir Rafiq, and was driving in the middle lane when he saw the police car.
"I saw a police car come behind me very fast with its flashing lights on and I pulled over to the hard shoulder."
He told the court he had been talking to his friends in the car and was not driving very fast when he was stopped.
"I was having a conversation with my friends. To say I was having a conversation and driving at up to 140mph is just not possible."
District Judge Pamela Baldwin said the police officer had not been able to define the exact speed Khan was travelling.
She said that his acceptance he was driving at around 75mph meant the trial over whether he exceeded the speed limit was effectively ended.
She said: "There was no point at which a police officer maintained a distance close enough to define the exact speed. While I cannot be sure it was over 100mph, I am satisfied it was well in excess of 70mph."
The suspension will run concurrently with the six-month ban he received last October after being convicted of careless driving when knocking down a pedestrian on a pelican crossing.