 India in pole position for victory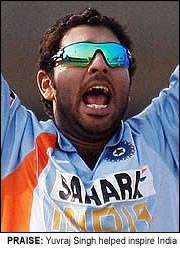 INDIA are just one game away from victory over Pakistan in their one-day series after taking a 2-1 lead.
A 46-run win in Kanpur means India need only one more win to take the series.
Yuvraj Singh top-scored for India before a packed crowd at Kanpur with 77 to help guide India to an impressive win.
The hosts were put into bat by Pakistan and notched up 294 runs in their 50 overs, with captain Mahendra Singh Dhoni (49) missing out on a half-century by a single run. Other notable scores from the Indian's came from Ganguly (39), Tendulkar (29) and Gambhir (25).
In reply, Pakistan had opted to promote Shahid Afridi to the top order after his heroics in Mohali just days earlier.
But the plan backfired when he fell for just 12 runs, bowled by Pathan.
Opener Salman Butt  proved to be Pakistan's only hope as he watched his fellow batsmen crumble under Indian pressure.
Younus Khan (21), Mohammed Yousuf (16), Shoaib Malik (12) and Misbah-ul-Haq (38) left Pakistan with a mountain to climb as they failed to build a partnership with Salman Butt.
And by the time Butt (129) had exhausted his innings, Pakistan were staring into the barrels of defeat.
Speaking after the match, winning Indian captain Dhoni was particularly pleased with the contribution of Yuvraj Singh to the victory.
He said: "As I have told before the series, he [Yuvraj] is our trump card. The kind of shots he plays and the class he shows, it's a pleasure to have a player of his calibre. It helps when we are batting together. If I get stuck and boundaries are not easy to come by, I know he is there to score those boundaries and take the pressure off me."
Looking ahead to the next match in Gwalior, Dhoni felt there was room for improvement in the bowling and fielding. "I think we bowled better than them but there is still room for improvement in this department. The fielding however, I don't think was up to the mark. Overall, you can call it an average day in the office in these departments."
The two teams meet next on Thursday in Gwalior, with India hoping to wrap up the series.