 Bollywood legend unwraps for Oxfam this Diwali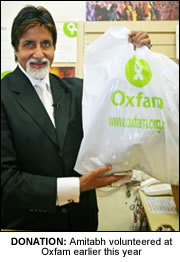 BOLLYWOOD actor Amitabh Bachchan has donated a fabulous selection of clothes from his personal wardrobe to Oxfam to celebrate Diwali.
The items, which will be sold online in December, will form part of the charity's Oxfam Unwrapped project which will help raise funds for some of the world's poorest communities.
The Bollywood legend was inspired to donate around 50 items of clothing, including embroidered shirts, suits and jackets to Oxfam after visiting an Oxfam shop in London earlier this year. Oxfam is hoping to raise money from the sale of his items in order to fund the work that the organisation does worldwide, which so inspired Amitabh to make the donation in the first place.

Mr Bachchan was moved by Oxfam's innovative ways of tackling poverty and said: "I urge everyone to come forward and contribute very generously to this noble cause."

Diwali is traditionally a time for thinking of those in need – and of getting rid of old clothes and buying new ones and Oxfam is hoping that Mr Bachchan's donation will inspire many Hindu, Jains and Sikhs to donate their clothes to their local Oxfam shops and buy fun Diwali gifts from it's Unwrapped catalogue.

Pushpanath Krishnamurthy from Oxfam said:

"It is a huge honour for Oxfam to have been given these donations by Amitabh Bachchan, and this generosity underlines why he has maintained such enormous popularity for more than 30 years. By donating his clothes Big B is helping Oxfam to make a huge difference in tacking poverty, suffering and injustice around the world. We can all do the same at Diwali, and by buying Diwali gifts from Oxfam Unwrapped too, we can bring the light of hope to even more people."

The clothes will be exhibited in Oxfam shops so the public has a chance to see first hand the items the Bollywood legend has donated. They will then be sold in an online auction in the build up to an online auction at the beginning of next month.