 Younus Khan inspires Pakistan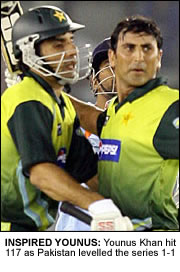 PAKISTAN levelled the one-day series against India after beating the hosts by four wickets in a thrilling match in Mohali.
Younus Khan hit a wonderful century to help Pakistan seal the win and level the 5-match series 1-1.
India had earlier set the tourists a formidable target of 322 with Tendulkar (99) narrowly missing out on a century. But Younus (117) and Misbah-ul-Haq (49) led Pakistan's reply to reach the target on the last ball.
Speaking after the win Pakistan captain Shoaib Malik gave credit to his batsmen.
"I had three tablets for my blood pressure," he joked. "In the end credit goes to Younus, Misbah, Shahid and Sohail.
"We will get a lot of encouragement from winning this game and our morale is high now that it's 1-1."
Having won the toss India elected to bat and with the only early loss of Ganguly in the first over, India looked bright and alert as they marched on.
Tendulkar looked odds on certain to grab a century, hitting 14 boundaries and a single six. But he was caught behind off Umar Gul on 99 runs.
Gul struck again in the 27th over, forcing Ghambir into a shot which was caught by Afridi.
But as India carried their onslaught, Pakistan bowlers looked increasingly shaky, conceding 31 runs in wides.
The tourists prevented total chaos by picking up five wickets for 39 runs but a late twist from bowler Harbhajan Singh (38 not out) set Pakistan a formidable target of 322.
In reply Pakistan looked to get off the front foot in style. Kamran Akmal and Salman Butt seemed to be heading in the right direction before Akmal (13) was caught by Yuvraj off RP Singh and Butt (37) clean bowled by Pathan.
Worse was to follow for Pakistan as Mohammed Yousuf (12) and Shoaib Malik (25) fell cheaply.
But Younus Khan saved his team from an early bath. A wonderful century off 99 balls signalled the game was very much on as the Mohali crowd lapped up every ball and every shot.
With Misbah-ul-Haq alongside Younus, the game was beginning to swing in Pakistan's direction.
Misbah crashed two boundaries in an over from Zaheer, which cost 15, as the partnership reached 100 in 12 overs.
But when Younus (117) was bowled by Pathan, Misbah (49) soon followed off RP Singh.
And if the game looked tantalisingly close, trust Pakistan one-day marksman Shahid Afridi to make it look easy. Clubbing three boundaries off Zaheer and hitting a six off RP Singh, it left Sohail Tanveer to hit his boundaries and take a couple of single's to seal a memorable win for Pakistan.
With the series now tentatively poised at 1-1, both teams meet again in Kanpur this Sunday.