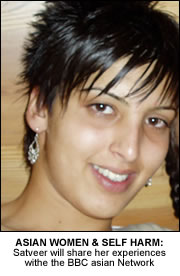 A MIDLAND mother will lift the lid on the growing problem of self-abuse that is gripping young Asian women later this month in a BBC Asian Network documentary.
25-year-old Satveer will speak openly about her experiences of self-harming as part of the 'I Will Survive' documentary for the BBC Asian Network this month.
The programme will discuss worrying statistics showing how Asian woman aged between 18 and 24 are three times more likely than a young white woman to turn up at hospital after self-harm.
The edition of the Asian Network Report, which is broadcast on 22 October, t traces the highs and lows in the emotional lives of some of the young British Asians behind these statistics.
The programme will highlight the dramatic problem of self harm amongst Asian women in the UK, and will hear from Satveer who has spent most of her adult life self-harming.
Speaking to The Asian Today, the Wolverhampton mother-of-one said she was desperate to be part of the programme to highlight the problem within the Asian community.
"Do I think self-harming is an ignored area in the Asian community? Well I don't think that it is embraced, but then again it isn't in any community", she said.
"What I have found is that fewer older Asian's want to listen to why I do it, they are more than willing to ask what the scars are, but don't like hearing the answer and expect me to speak in an ushered tone."
Another self-harmer who reveals her story on the programme also questioned the lack of support from the Asian community to women who self-harm.
The Asian Network Report – 'I Will Survive'
October 15th 2007 18.30-19.00