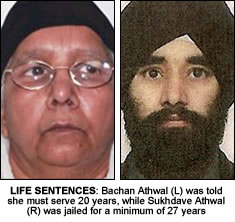 THE mother-in-law and husband of a Coventry woman murdered during a trip to India have been jailed for life.
Bachan Athwal, 70, and Sukhdave Athwal, 43, were found guilty of the murder of Surjit Athwal in July.
The 27-year-old Heathrow Customs Officer vanished during a trip to India in 1998 weeks before Bachan told family members she had arranged her daughter-in-laws murder, the Old Bailey heard.
Today she was told she must serve 20 years in jail for the murder.
Her son, Sukhdave was jailed for a minimum of 27 years.
Judge Giles Forrester told the pair: "The pair of you decided that the so-called honour of your family members was worth more than the life of this young woman.
"You, Bachan, were head of that family. I have no doubt you exercised a controlling influence over other family members."
During the trial, the jury were told Bachan had made no secret of her disgust with her Surjit over her desire to end her marriage.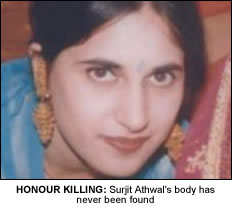 Michael Worsley QC, prosecuting, told the court Bachan vowed a divorce would only take place "over my dead body".
A month before Surjit disappeared Bachan called a family meeting where she explained how she would take her daughter-in-law to India under the pretext of a family wedding where she would be killed.
Bachan's other daughter-in-law, Sarbjit Athwal was at that meeting and told the court her mother-in-law had made it clear she was going to 'get rid' of Surjit and that her husband was ignored when he objected to the plan.
"My mother-in-law said she wasn't getting on and it was causing too much confusion and problems in the family and they were going to get rid of Surjit," Sarbjit told the court. "There was a wedding going on and they were going to go to the wedding in India. They were going to take her to India and get rid of her.
"My husband was totally against it. He said that it shouldn't be done."
Sarbjit said she was "too scared" to speak up during the meeting and that Surjit's husband Sukhdave "didn't say anything" when his mother announced details of the trip.
She added Bachan had spoken to her brother in India who had told her to bring Surjit to India.
After having her killed Bachan and Sukhdave began a web of deceit to cover up their crime.
When they returned to the UK without Surjit they told family members she had run away in India and forged letters from the Metropolitan police to their Indian counterparts to have the case closed.
Sukhdave also took out a £100,000 insurance policy on his wife the day they left for India and transferred her house into his name.
He later divorced Surjit in her absence, claiming she deserted him, and then he married someone else, said Mr Worsley.
But the duo were eventually made to pay for their evil act after frightened family members contacted the police.