 Wicketkeeper takes over from departing Dravid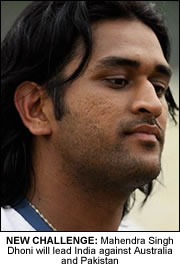 MAHENDRA Singh Dhoni will lead India for the home series against Australia and Pakistan after he was appointed captain of the one-day team.
The wicketkeeper, who is India's current captain in the ICC Twenty20 tournament, takes over from Rahul Dravid who quit the captain's role last week.
The decision on a Test captain will be taken at a later date, Dilip Vengsarkar, the chairman of selectors, said, although it is widely regarded The Board of Control for Cricket will see how Dhoni fares against Australia and Pakistan before making a decision.
The long-haired pin-up of Indian cricket was widely tipped to take over from Dravid since announcing his decision to step down as captain.
"Dhoni is a good captain and has done well in the Twenty20 World Cup. It is the right time to groom him," Vengsarkar said.
Indian also revealed the line up for the ODI's against Australia and Pakistan which included former captains Sourav Ganguly and Dravid himself.
Vengsarkar added Dhoni will have the support of both players.
"He would have three former captains in the ranks who would give him full support. You are talking about having three captains – Azharuddin had five former captains under him when he led India in England," Vengsarkar said.
Rahul Dravid meanwhile revealed the reasons for stepping down as captain.
"I had done the job for two years and they have been pretty eventful couple of years," Dravid told PTI. "Obviously it takes a lot out of you and I felt that I was not enjoying it.
"The decision was personal and based on my observation of whether I would be able to give it my very best like I have always tried to," Dravid said. "Finally, you have to be comfortable yourself that you will be giving it your best and not going through the motions which will not be fair to the team."