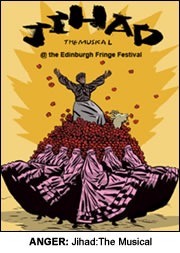 A MUSICAL that mocks the world of Islamic terrorism has caused a stir after it premiered at the Edinburgh Fringe festival.
Jihad: The Musical, billed as a a madcap gallop through the world of Islamic terrorism, has angered some who have hit out at fesival bosses saying it should be banned.
The show, which premiered earlier this week, tells the story of an Afghan peasant who becomes 'brainwashed' by a Jihadi gang and features songs such as 'I want to be like Osama' and 'I only see your eyes'.
And its content has met with such anger and fury that a petition has been created on the Government's on-line petition website calling on Gordon Brown to "condemn the tasteless portrayal of terrorism and its victims in 'Jihad The Musical'".
Protesters have claimed the American show insults terror victims.
"The idea of making light of muslim extremism is extremely offensive, most especially for its victims", the petition added.
"The Edinburgh Fringe Festival promotes such 'artistic license' without due consideration for those parties who may be offended by this 'musical'."
But producers of the show hit back saying it does not cause offence.
James Lawler of US company Silk Circle Productions said:
"We have no intention of causing offence or insult.
"It is simply a comedy musical following the British tradition of high-kicking, high-spirited musical theatre.
"Great care has been taken to ensure that the utmost respect is provided to the faiths and cultures it incorporates.
"This has been achieved by some very skilful and tactical writing.
"Clearly, the petitioners have not seen the show – as their knowledge of the content would appear to be incorrect, rendering their petition inflammatory and highly unnecessary."
The musical will run until the August 26.