 Aussie Geoff Lawson takes over from Bob Woolmer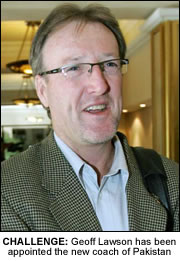 FORMER Australian bowler Geoff Lawson has been appointed coach of Pakistan.
He beat off competition from favourite Dav Whatmore and Richard Done to take the slot made vacant following the death of Bob Woolmer at the World Cup earlier this year.
Pakistan Cricket Board Chairman Nasim Ashraf said his bowling speciality had sealed his role as head coach.
"Pakistan has many pace bowlers and we win matches with them", Ashraf said.
"Having a former fast bowler on board is an advantage for that definitely. We weighed all our options and, though all three were highly qualified, we felt Lawson was the most suitable to our needs. Dav Whatmore and Richard Done were not any less candidates, just that Lawson was what we needed".
Reports had suggested Lawson was a firm favourite for many squad members. Speaking on his appointment the former Australian fast bowler said he was "excited" about working with the Pakistan squad.
"It's such a talented squad they have over there. When you look at the class of players they have, you just have to be excited about being involved with them," Lawson told Cricinfo.
And his appointment was welcomed by Pakistan captain Shoaib Malik.
"It is a positive decision and will help the players", Malik told the Dawn Newspaper.
"As for Lawson's expertise, I feel he can do a good job with both bowlers and batsmen because the batsmen do not need basic level coaching and just need to hone their skills".
Fast bowler Shoaib Akhtar was equally upbeat over Lawson's appointment saying: "I am excited that he is coming to Pakistan, it's thrilling. He can lift us to that level where we can become world beaters.
"I have always loved the Australian mentality. They only play to win and even if they lose they put up their best till the end. I am confident that Lawson will help us beat Australia because he will know their weaknesses and strong points".
Lawson is expected to fly to Lahore in the coming weeks to help Pakistan prepare for the forthcoming Twenty20 World Championship.