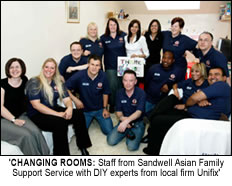 CHILDREN with disabilities at Sandwell Asian Family Support Service are enjoying spruced up surroundings after a 'Changing Rooms'-style make-over.
Local firm Unifix were set a one-day deadline to completely redecorate a room at the service's Smethwick centre.
A team of 12 volunteers from the firm descended on the site at 9am to kit out the multi-purpose room with items donated by local organisations.
Now children, young people and their parents can enjoy new toys, DVD's, a relaxation area and a new television.
SAFSS Chief Executive Parpinder Dhatt said: "I can't thank the Unifix staff enough for such fantastic support. Our children, young people and parents were very excited about the redecoration and the incredibly generous donations."
Mr Habib, whose son Aftab has been using the services at SAFSS for ten years, said: "Aftab loves coming to the centre at SAFSS. As a parent it makes a big difference to know that organisations like Unifix are helping SAFSS to support parents of children with disabilities in Sandwell."
The room was in need of a complete revamp when Unifix stepped in. They responded to a challenge thrown down by Business in the Community through the employee volunteering programme 'Cares'.
Sandwell Asian Family Support Service is funded by Sandwell Council.
Cabinet member for children & young people Cllr Ian Jones said: "Supporting vulnerable children is one of the council's three top priorities and this is a wonderful example of all sectors of the community working together towards that aim.
"My thanks and those of the local authority go to Unifix for all their efforts."
Anyone interested in the services SAFSS provides should contact manager Neelam Pallen on 0121 558 2198.