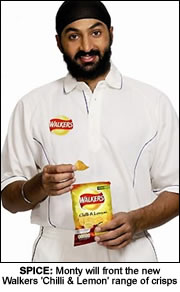 ENGLAND cricketing star Monty Panesar is hoping to spice up the nations favourite crisp after signing for Walkers.
He will replace former football star Gary Linekar for the new Chilli and Lemon flavour range – expected to be a hit with the UK's Asian community.
He has signed a deal for an initial six-month trial period, with the scope for a further extension if the campaign is a success.
Walkers said they were thrilled about having Monty on board, while the man himself said his new role would be a "challenge".
Speaking about the news, Monty said: "I'm really excited about my new relationship with Walkers. It's a new challenge for me and I'm certain Chilli & Lemon will be a huge success within the UK's Asian communities and beyond."
Jon Goldstone, Vice President Walkers Marketing, said the range was specifically designed for the Asian community and England hero Monty was the perfect star to front the campaign.
"This is our first flavour developed specifically for the tastes of the Asian market. Chilli & Lemon flavour is already a favourite within the Asian community and, although we believe this new flavour will have mass appeal, we are targeting the Pakistani, Bangladeshi and Indian communities that make up the UK's biggest ethnic market," he said.
 "Walkers Chilli & Lemon packs stand apart from the rest of the range with a 'New' flash written in both English and Hindi – a first for Walkers. They also feature an attractive Asian-inspired Henna design.
"Monty Panesar is this summer's cricket hero and his involvement will really help us get the message across to our target audience. We're thrilled to have him as a partner."