 BBC's DJ Nerm on mud, tents and brown faces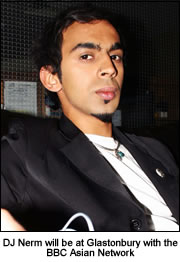 It's June 2007 and it's that time again, it's time for Glastonbury! One of the world's greatest festivals is back and the BBC Asian Network are going to make sure the only 'brown' faces we'll see won't be the one's covered in mud! We speak to DJ Nerm – one of the Networks specialist DJs who has been pivotal in helping build the station's new musical direction. He'll also be playing in a number of the Networks summer festivals, including the infamous Glastonbury. Mud, tents and brown faces – It can only be DJ Nerm at Glastonbury…
You've got a great summer coming up for the Asian Network. Are you excited, nervous? 
I'm excited and nervous! We'll be everywhere from Glastonbury to Bestival and London Mela and the great thing about the line up for Asian Network this summer is that we're going to be at the more established festivals as well as ones that are a real surprise. At the likes of Glastonbury and Bestival you know what kind of stuff to expect – but with the newer festivals like London's Regent's Street Festival you don't quite know what to expect. I recently played live at Paradise Gardens in the East of London and there we got a real cross section: the 'trendies', with their finger on the pulse, who came to our tent for the latest breaking British Asian music, the 'crusties' who came because it was free and the families because that's their local park. It was a challenge trying to appeal to them all but if you go onto the Asian Network website and look at our gallery you can see all of these disconnected groups having a fantastic time together – it really was something special.
Asian Network's added a number of new festivals to the schedule this summer. Most notably the fantastic Glastonbury. How much is Glastonbury a major coup for the Asian Network?
I've played at Glastonbury before but this time we'll be taking over the Roots stage in the dance arena on the Friday night with Bobby Friction there all weekend reporting back as well as my show coming live from there on Saturday night! At the end of the day this is the BEST festival in whole of Europe- it's completely different, more anarchic, with a more overwhelming atmosphere than anywhere else, so of course I'm really, really excited to play there. The audience there hunger for new sounds so this year I'll be playing some exclusive material from a feature on my show Electro East called – Mashtracks. This is where the listeners vote for which one of three commercial, totally Desi, non-underground tracks they want to hear remixed by an Underground producer. The challenge is the producer only has a week to remix it! We've had some fantastic and surprising results that appeal to the Underground crowd as well as the Desi heads so I can't wait to see what damage they do at Glastonbury.
Glastonbury – Rain, Mud, dodgy tents – not exactly the Hilton, and probably not everyone's cup of tea! How much is 'Asian' support at Glastonbury important for the Asian Network? Or is it all about reaching out to a non-Asian audience? 
The Asian Network is all about Asian audiences but not exclusively. I love appealing to one and all and the music I play and the audiences that listen to me reflect that. In Underground circles, race becomes less of an issue – when you're covered in mud you can't really see what colour skin you have underneath! New British Asian artists have grown up in Britain and have influences from Bollywood and Devotional Sounds to the Prodigy and Chemical Brothers – so new British Asian Music is going to reflect this and that's why we're at Glastonbury – bringing this really fresh sound to people who hunt for the new and exciting.
The whole 'Brit-Asian' mainstream phenomenon seems to have cooled down in the past year with a number of recognised artists parting ways with their record labels. Was it inevitable that Brit-Asian music in the mainstream would wither away?  
I think that British Asian Music will run into problems if we only sell to Asian people, Asians occupy less than 5% of the population and therefore for the British Asian Music scene to be big we need to appeal to a wider audience of listeners and to do that we need to be Writing and Producing the best. It doesn't matter what you produce, Drum and Bass, Bhangra, RnB, Rock and Roll – you just need to be the best and compete with the best of these genres that are out there right now. If we do this there won't be bubbles of Asian art it will be just great music and being 'Asian' won't be a handicap it will be an enhancement.
On the flip side though does mainstream success for Brit-Asian artists really matter? Some are actually bigger stars in India and would probably value their status more in India than over here in Britain. Do you agree? 
Myself and Shiva Soundsystem have been really lucky and we enjoy a strong presence in India. We spend at least 1 month a year in India and love everything about the place – it's an emerging market and with that comes a sense of excitement and optimism. But I don't think you can substitute one for another – Britain is AS important – and sometimes the fact that the artist is British is the hook for Indian audiences.
Asian Network recently bagged Gold and Silver at the Sony Academy Awards. What a great achievement for the station. 
It was awesome! And not just because I know both of the teams that got the awards! The fact Friction, a specialist music show, won the Sony Gold and the Asian Network Report, a documentary strand, won a silver is an example of how wide the Asian Network's output is and most importantly how good it is! Musically I think that the shows on the Asian Network are some of the best and unique. You won't hear anything like it anywhere else!
Finally, where do you see the Asian Network heading?
Onwards and upwards!