 Bolly babe gears up for 'Kya Love Story Hai'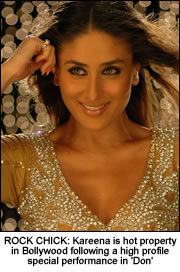 Her crystal-embellished jeans hug a perfectly toned figure. Brown curls frame her face. Kareena Kapoor looks ravishing as she swings to music director Pritam's track in a suburban studio. She's doing an item number for director Lovely Singh's forthcoming romantic comedy, Kya Love Story Hai which releases on April 20. The film will be distributed in the UK by Studio 18. After giving some sensuous twirls and swirls choreographed by Bosco, the Kapoor gal sits down to chat about her latest moves…
After doing Yeh Mera Dil…… for Don last year you stated that you would not be doing any more tracks in future. What motivated you to make this sensational appearance in the forthcoming film, Kya Love Story Hai, releasing on April 20?
Actually Lovely Singh who has directed Kya Love Story Hai is a close friend, and doing the song was a gesture of love and friendship. And when he explained the concept to me, and I heard the song I knew it was going to be a rocking number where I would get to wear the most glamorous clothes, drive a limo and strum a 25-feet guitar! It all sounded so enchanting!
How was it facing the camera after a year?
What a coincidence! I began my break last year after completing the dance number for Don, and now I have ended my break again with a dance number! I was away purely out of choice, but now it feels great to be doing what I have always loved doing.
Did you contribute to the song in any way?
Since I am playing myself in the song, I told Lovely that I would not go overboard on the glamour front with itsy bitsy costumes. It was my idea to perform in jeans and some gorgeous gowns. Otherwise it has been the team work of music director Pritam who has given some foot-tapping music, Bosco who has come up with very innovative steps, dress designer Manish Malhotra who has designed remarkable outfits, the director Lovely Singh who conceptualized the piece, and of course, Alisha China who has lent her golden voice to the song. It's gonna be a chartbuster!
Personally what kind of music do you like to listen to?
My all time favorites are the old classics from films like Aawara, Chori Chori etc. And imagine this song from Kya Love Story Hai is actually an adaptation of the old hit Ude ude jab jab zulfein teri…
What are your expectations from doing a commercial role like the one you've done in Kya Love Story Hai?
There are no expectations except that I can experiment with looking really glamorous. It is a good balance after doing films like Chameli and Omkara where I am deglamorised. And then there is the additional high of knowing that millions of people out there are going to dance to my moves!
How was the one-year break?
People have to realise that actors are not machines and need to take a break too. I did 32 films and needed time to refuel. I used this time to look at scripts and single out some meaty roles.
But have you not turned vegetarian?
That's funny isn't it? A vegetarian looking out for some meaty roles! (Laughs)
So which are the meaty roles you have singled out? 
Imtiaz Ali's film with Shahid as my co-star is the one I am very excited about, then I have Yash Chopra's next with Akshay and Saif, and Mani Ratnam's Lajjo with Aamir Khan.
What is the secret of your slim-as-a-reed figure?
I begin the day by doing yoga and that has really helped! And thanks to Shahid I have turned vegetarian, which has further enhanced my physique!
Tell us about Shahid Kapoor!
He brings a smile to my face. He's my dream man!
Your motto in life?
Never say 'never'!
Kya Love Story Hai is out on April 20