 Confident Indian's seek World Cup glory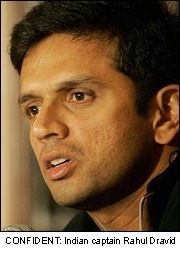 INDIAN captain Rahul Dravid has laid down the gauntlet and declared his team are good enough to win the World Cup.
Cricket's top tournament starts later this month in the West Indies and India, with a healthy record in one-day internationals, are one of the tournament favourites to walk away with the top prize.
Speaking at a press conference ahead of his teams departure to the West Indies, he said the team he leads out has the talent to go all the way.
"Our chances in the World Cup are good. We have the talent and it's only a question of our performance now", he said.
"[The] World Cup is a unique event. If you get on a bit of a roll there you can crack whatever the opposition you are facing like we did the last time.
"It's a question of performance in the two months that matters".
India's recent home series win against Sri Lanka has boosted confidence in the squad and star batsman Virender Sehwag said it has put India in good stead ahead of the tournament.
"Will India win the World Cup and repeat the victory of 1983? I am no astrologer but, going by the team's morale, I can tell you that there is a very good chance", he said.
"Our confidence as a winning combination is back – particularly after our victory in the home series against Sri Lanka."
He cited India's spin bowlers as the key weapon in maximising the slow wickets in the Caribbean.
"I would say that spin is the mantra that India will bank on – particularly on the wickets in the Caribbean which are slow and offer low bounce", he said.
"We have two frontline spinners in our squad and a couple of others good enough to share the burden."
India begin their Caribbean charge on 17 March against Bangladesh.