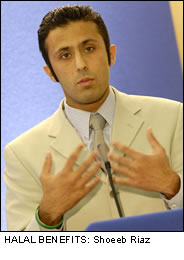 DEMANDS for halal meat could open up lucrative new markets for hard-pressed British farmers, business have been told.
Consultant Shoeeb Riaz told the annual meeting of the West Midlands Minority Ethnic Business Forum that an Advantage West Midlands-funded feasibility report, looking at the benefits of catering for the halal market, would be completed by the end of the year.
 "If agreed, funding could be in place by February of next year with a commercial project underway by the end of 2007," he said.
 Mr Riaz said that in Australia a whole new industry had sprung up around demands from the Muslim community for halal meat. "With new countries which have large Muslim populations about the join the EU, Britain – and the West Midlands –stands to become the hub of a £30 million market," he added.
Farmers producing livestock for the halal market would have to meet strict accreditation standards. But, he added, that with meat being preserved via canning, and aluminium foil or vacuum packing they would be able to benefit from UK and export sales all the year round.
 "The Qurbani Project is a business enterprise – it is not restricted any one race of religion," he added.
John Edwards, chief executive of Advantage West Midlands, told the meeting, held at the Quality Hotel, Walsall, that minority ethnic businesses would have a major opportunity to help revitalise the regional economy.
Mr Edwards said that 47,000 minority ethnic businesses had already been established in the West Midlands, many of them highly successful. However, if future generations were to achieve similar achievements, then issues of upskilling and educational attainments had to be addressed.
The Forum's chairman, Mohammad Nazir, commented: "In a few years time the indigenous white population will be a minority in Birmingham and Solihull, so a major burden of wealth creation and ensuring future prosperity will therefore fall to entrepreneurs from our minority ethnic communities."