 Khan sets sights on conquering America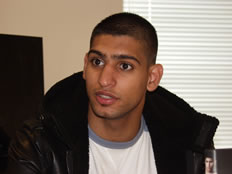 BOXING hero Amir Khan may make his boxing debut stateside next year after admitting he was desperate to prove his worth as a boxer in America.
The 19-year-old, who is busy training for his next fight against an American opponent at London's EXcel Arena on December 9, met his boxing heroes Muhammad Ali and Sugar Ray Leonard during a recent trip to America.
"I would love to fight over there", Khan admitted at a press conference.
"Sugar Ray Leonard sat down with me and talked about the Olympics. He knows me as a future champion and told me, 'You want to come over here and crack America'.
"I want to build my name up in the States as well as here. I want people in America to know who I am, that I'm a good boxer and that I'm going to be a great champion."
He described his experience in America as "fantastic" after visiting reddie Roach's Wildcat gym in Los Angeles.
"It was a fantastic experience for me," said Khan. "When I went in the Wildcat, there must have been 40 or 50 boxers working out in the two rooms there. As soon as they saw me on the pads with Freddie Roach, the place stopped and everyone wanted to know who I was."
Khan will meet an as yet unnamed America opponent as he aims to take his unbeaten record into double figures.
The fight in December will be Khan's first eight-round encounter which suggests Khan is upping the stakes in a bid to challenge for a world title next year.
At the moment it seems, Khan has already begun to generate interest across the atlantic.
Promoter Frank Warren announced American broadcasting giants HBO are eager to follow the progress of the young star in the hope of scheduling a fight in America next year.
"HBO have said they will give him the maximum exposure they can and that will hopefully involve a fight in the States," said Warren.
And the moment however, Khan is firmly focussed on his forthcoming fight having finished a two-week nationwide tour promoting his autobiography.
"I know I am getting stronger and punching harder and I can't wait to get back into the ring in December", Khan said.
"Whoever I fight, I will study a video of him with my trainer, Oliver Harrison, and I will be working on some of the mistakes that I know I have been making".
The youngster is hoping to challenge for a title next year, but Warren remained open-minded about which title his star will go for.
"I don't know which title it will be, it depends what's available.
"It could be the British, the Commonwealth or even the English. Amir hasn't fought over eight rounds yet, let alone 10, and the English would give him the opportunity for a 10-rounder."