 Sample 'B' results expected today
FORMER Pakistan captain Imran Khan has lashed out at the Pakistan Cricket Board for their handling of the drugs controversy surrounding bowlers Shoaib Akhtar and Mohammad Asif.
The pair are currently in Pakistan after being sent home from the Champions Trophy in India after testing positive for the banned steroid nandrolone
Khan, who has spoken out in the past against the running the PCB, questioned why the results of the drugs test were not made available before the team flew out to India.
"The results of the tests should have been there before the announcement of the team for India," he said.
"There should be a proper investigation to prove the authenticity of the case."
Both Shoaib and Mohammed were tested three weeks ago but the results were only announced on Monday.
A second sample has been taken from the pair with the results expected at some point today.
The pair will have to expect the realistic possibility of missing next years World Cup finals in the West Indies if the second test comes back positive.
Akhtar protested his innocence yesterday when news of the scandal broke.
"I want to assure everyone that I am innocent of doing anything I shouldn't have," Shoaib told the bigstarcricket.com Web site.
"All I can say at this stage is that I have not knowingly taken any performance-enhancing drugs and would never cheat my team mates or opponents in this way."
He was supported by his doctor Tauseef Razzaq who said the 31-year-old would never take a banned substance deliberately.
He told the Champions Trophy website: "Shoaib is at the peak of his career and he is not a fool to do something that will curtail his career."
---
Pakistan duo sent home after positive drugs sample
Akhtar and Asif test positive for nandrolone
Last Updated 16/10/2006 14:29:48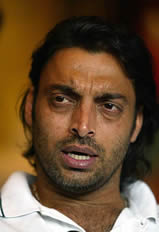 PAKISTAN'S quest for Champions Trophy glory has been dealt a severe blow after fast bowlers Shoaib Akhtar and Mohammad Asif were sent home after failing a drugs test.
The duo, who were regarded as Pakistan's key players in the tournament, were tested positive for the performance enhancing drug nandrolone following a drugs test by the Pakistan Cricket Board on 19 of its players.
The duo were immediately withdrawn from the Pakistan team preparing to face Sri Lanka tomorrow, and their futures currently remain uncertain.
News of the failed test was broken by the PCB who may be forced to take action if a second test, the results of which are due tomorrow, is confirmed. Both Akhtar and Asif could face bans of up to two years if the second test is confirmed.
"They have tested positive for using nandrolone, which is a performance enhancing anabolic steroid," Saleem Altaf, director of cricket operations of the Pakistan Cricket Board, said.
"We have asked for a second test (B sample). But for the moment they have been suspended and are being recalled from India.
"Under the ICC anti-doping rules the punishment for a first violation is two years. We don't have our own rules on such matters and might follow the ICC regulations."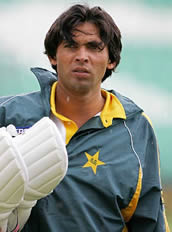 Akhtar, who has had to endure a nightmare injury-prone year, protested his innocence saying simply "I have done nothing wrong", before adding he had been told not to talk to the media by the PCB.
The news has been greeted with shock across the world and none more so than within the Pakistan cricket camp.
Already reeling from a number of scandals on the past month alone, Coach Bob Woolmer said the news had shocked his team.
"What was my initial reaction? Disappointment. I have never come across anything like this in my life. The timing is not great, but if it's going to happen it happens. We will have to be strong in these situations," he said.
Both players have recently returned to action after spending most of the summer injured.
Shoaib, 31, underwent a double knee operation in February and 23-year-old Asif has been struggling with an elbow injury.
Woolmer said there was a possibility the banned substance could have a direct link to substances taken by cricketers coming back from injury.
"I'm just wondering whether the substance that has been found was in one of those injections they use for those injuries," said Woolmer.
Malcolm Speed, chief executive of the ICC, said the PCB would deal with the matter as they had carried out the testing before the tournament began.
Pakistan has had to endure a nightmare past month in which captain Inzamam-ul-Haq was banned for four games for bringing the game into disrepute following the Oval ball tampering row. Vice-captain Younis Khan then publicly refused to fill his place saying he did not want to be a 'dummy' captain.
Former PCB chairman Shaharyar Khan then quit the next day because of his decision and his replacement Nasim Ashraf reinstated Younis as skipper.
Where does this leave Pakistan cricket?
The Asian Today comment
Without a shadow of a doubt, Pakistan cricket is suffering from a major crisis. From the ball tampering row at the Oval to Younis Khan's distaste at being a 'dummy' captain, the past few months have provided Pakistan enough scandals to last a lifetime.
The weekend shocker involving fast bowlers Shoaib Akhtar and Mohammed Asif has no doubt rocked an already fragmented team. Captain Inzaman will be watching his teams Champions Trophy quest from the sidelines following the Oval debacle, stand-in captain Younis Khan will be hoping he won't put in a dummy performance after kicking up a fuss about his role in the absence of Haq, and former PCB top man Sharayar Khan will probably be watching from the comfort of his own home after walking out on the team in the post ball-tampering row. Put Mohammed Asif and Shoaib Akhtar into this mix and what you have is a team on a slide to oblivion.
If a second test comes back positive, both bowlers will be looking at heavy bans. While there may be time for Mohammad Asif to pick up the pieces, it's looking highly unlikely for Shoaib Akhtar. Having already spent a spell on the sidelines in which his team looked a million miles away, he is sure not only to miss the Champions Trophy but more importantly next years World Cup. Whether Pakistan will accommodate Akhtar after his ban is questionable. For the time being the team are in crisis mode. Six months ago Pakistan would have walked into the Champions Trophy as one of the tournament favourites. Tomorrow, they will walk in as a team lacking in confidence, a team without their influential captain, a team with a fragmenting managerial structure, and a team without a feared bowling attack. If Pakistan have any hopes of winning the Champions Trophy, or the World Cup, then maybe they should be tested for an illusion enhancing drug.