A highly successful and entertaining charitable evening was recently hosted by Helping Little Angels at the prestigious Birmingham Botanical Gardens.
Celebrating a diverse audience from the business community as far afield as Manchester and London, people came together to enjoy networking in a relaxed and sociable atmosphere, as well as learn more about the charity's work and future projects.
Kul Mahay, Public Speaker and Founder of Ignite Your Inner Potential, a personal development organisation, was host, compere, and auctioneer for the evening.
Kul said: "It was a blissful evening full of generosity, giving and a wonderful diversity of guests from the business community.
"I'm very happy to have supported Helping Little Angels. Moreover, for my upcoming event in Derby on 11th January, Ignite Your Inner Potential 2020, one of the biggest personal development events, I am proud to announce the chosen charity for the event will be HLA."
Dr. Shahid Sandhu, Chairman of HLA, said: "This event is very significant for us in terms of bringing together highly successful business people and professionals to build stronger ties with them as well as raise more awareness of the charity's core projects – supporting orphans and educating poor children. We look forward to establishing mutually beneficial partnerships with many of them in the near future."
There are currently 60 children housed at the orphanage in Lahore, Pakistan. One of the new and exciting projects includes building a girls' wing near the existing orphanage. This will not only allow the charity to take in more children, but also provide more focused care and support individually to both girls and boys.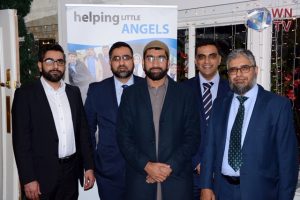 During the evening £22,000 was raised. Dr. Sandhu said: "Donations are still coming in. We have raised an impressive £30,000 so far!
"The entire HLA team would like to thank all our guests for coming and their tremendous generosity; as well as our sponsors for their magnificent support: Al Faisal's Restaurant, Aasaka Health, Giro Food Ltd., Itihaas, WNTV and John Price Printers. A final thanks to Milner Menswear, Shabir Beigh, Maqsood Hussain and Kul Mahay for donating some of the fantastic auction items."
For information please call Lubna on 07904 160 726.
Website: http://helpinglittleangels.org.uk/
Picture Credit: WNTV