A new and free exhibition delivered and curated by West Midlands based organisation; Art Sikh opens on Friday 29th November at the Library of Birmingham, Centenary Square. The exhibition is in Commemoration of the 550th Anniversary of Guru Nanak Dev Ji and will feature emerging and established artists' from both the UK and worldwide and will be on display until Friday 30th January, 2020. More information about the exhibition can be found at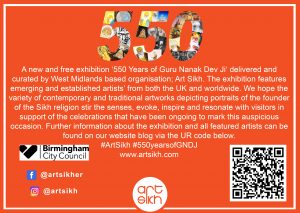 Art Sikh is a non-profit creative organisation established in 2015, dedicated to help build, support and cultivate Art, Culture and Theology. The fundamental philosophy of Art Sikh is to support, encourage and mentor up and coming artists from around the world who face barriers in forging a profile as an artist. Dedicated to promote inter-faith/ belief cohesion between community groups through the medium of creativity. To date Art Sikh have supported over 50 artists, exhibited at number of community and public venues and are building a strong network of creativity. Art Sikh have successfully curated and delivered exhibitions with and for various local council authorities, educational institutes and art galleries.
More information about Art Sikh can be found at: http://artsikh.com
In the exhibition '550 Years of Guru Nanak Dev Ji', Art Sikh have complied a variety of contemporary and traditional artworks depicting portraits of the founder of the Sikh religion to stir the senses, evoke, inspire and resonate with visitors in support of the celebrations that have been ongoing to mark this auspicious occasion.
The West Midlands is the second largest region of residence of British Sikhs in England. Art Sikh aim to celebrate diversity within the local community by providing an educational visual experience on British Sikh Heritage and inviting all religion/ belief and ethnicity groups to participate in this celebration with the Sikh community.
The artists featured have drawn from the humanitarian teachings of Guru Nanak Dev Ji and been inspired by the Sikh concept of oneness to artistically create their contemplation's envisioning the founder of Sikhism. We hoped to create an ambiance within the exhibition to evoke a variety of feelings for a range of visitor experiences. The bold uniform white space aided by the flow of artworks for visitors to view with ample space to step back and take in the visual ingenuity of each piece. There is a clear diversity through the range of artworks, depicting Guru Nanak Dev Ji to transfer the various ideas, impressions and emotions artists have been inspired by.
This year on the 12th November 2019 was a significant milestone for the Sikh community to mark five and a half centuries since the birth of the founder of the Sikh faith. In commemoration of this Art Sikh bring to the Library of Birmingham a touring exhibition featuring artworks exploring the teachings on humanity as one from the first Sikh Guru incorporation with the British Values, bringing together people from various faith communities and those of no faith in the memory of Guru Nanak Dev Ji. We have more in common that unites us as human beings than the differences that divide us. – Art Sikh.
Location: Library of Birmingham Cafe, West Midlands.
Friday 29th November, 2019 until Friday 30th January, 2020. #artsikh #550yearsofGNDJ