Birmingham, in the heart of Britain, saw an unprecedented ensemble of over 120 key healthcare experts from India and UK, converge at the renowned 'Queen Elizabeth Hospital' to discuss the potential areas of collaboration and identify effective models to take the relationship to the next level.
The main objectives of the conference were to provide a forum to widen and enrich the healthcare research and innovation debate, deliberate upon workforce challenges, and hold meaningful discussions on the scale of exchange, current approach and possible solutions in this arena at a time when the Healthcare sector of both countries is at an inflection point.
The Conference which took place on March 22, 2019, was organised by the High Commission of India through the Consulate General of India, Birmingham, and was supported by University Hospitals Birmingham, NHS Foundation Trust, Greater Birmingham and Solihull Local Enterprise Partnership (GBSLEP) and Confederation of Indian Industry (CII).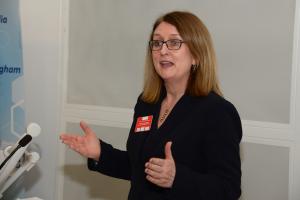 Chairing the day-long Conference, Rt Hon Jacqui Smith, Chair UHB Hospitals NHS Foundation Trust welcomed delegates at one of UK's largest hospital, setting the tone of the conference by emphasising how the partnership between the two countries can be mutually beneficial. High Commissioner of India to the UK, H.E Ruchi Ghanashyam assured the conference that both Governments are committed to support healthcare collaboration, and stressed that India and UK need to work together to address current challenges in this sector. She elaborated that India has been able to provide world class medical treatments at one of the most competitive prices. Mentioning about the traditional systems of medicines that has developed over centuries in India, she said that there is a lot in India that we can offer to people coming from abroad.
Dr, Indu Bhushan, CEO of National Health Authority of India focussed on the 'Ayushman Bharat'-the world's largest government funded healthcare insurance scheme which will benefit over half a billion people. He explained how it's a game-changer, and how these revolutionary changes in the healthcare landscape of India offer opportunities for international healthcare organisations both in the public and private sector.  With its guaranteed inpatient care worth INR 500,000 (GBP 5,495) per family per year, Ayushman Bharat Pradhan Mantri Jan Arogya Yojna (PM-JAY) will significantly help in providing quality healthcare by drastically reducing catastrophic healthcare expenditure which pushes 60 million Indians below poverty line every year.  Ayushman Bharat
Ayushman Bharat PMJAY is set to reform Indian healthcare, as for the first time, this scheme seeks to change the current system by envisaging close involvement of the private sector which is critical to the removing the constraints of accessibility and affordability, and provide the same level of services to the poorest 40% population of the country, and change the whole structure from the present supply-based model to a demand-based model and from high-margin-low-volume to low-margin high-volume business model essential for unmet needs.  Engagement with private sector will help streamline the supply side as it will lead to rationalisation of the packages, increase in number of private hospitals, and better fraud control, among other outcomes. The scheme aims at improvement in quality, affordability
The scheme aims at improvement in quality, affordability and accountability in the healthcare sector. Ayushman Bharat will be a game-changer for healthcare given its scale with a target of 500 million poor, 1,400 benefit packages and cover of INR 500,000 (GBP 5495) per family per year. The collective bargaining power of 500 million people will drive demand for high quality healthcare from both private and government providers.
Dr. D. S. Rana, Chairman, Sir Ganga Ram Hospital, New Delhi highlighted the fact that the 98 years old institution, also happens to be the largest medical teaching facility of its kind in the country, in the private sector. He further stressed that his institution was keen to partner with its British counterparts to address the challenge of shortage of skilled manpower in both countries.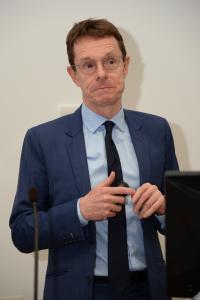 Mayor Andy Street, Mayor of West Midlands, said, "Life Sciences is a key pillar of the WMCA's Local Industrial Strategy. Through the work being done by institutions like the Queen Elizabeth Hospital and in our Universities, I am confident it is an area we can be world famous in. The current Indian Government has put a strong emphasis on healthcare for all Indians and this has already led to new research and development in healthcare initiatives. There couldn't be a better time for us to explore synergies and potential partnerships between India and the West Midlands on life sciences."
Ms. Neena Gill, Member of European Parliament, stated that Indian healthcare/ pharmaceutical sector is leading the way with rapid modernisation & lower cost leading to an explosion in health tourism from the UK. Ms. Preet Kaur Gill, Member of Parliament stated that to overcome the staff shortage being faced by NHS, we could develop mutually beneficial policies and relationships with countries like India, to support domestic training and up-skilling of health workers as well as to continue to welcome non-British nationals who come to support the everyday working of the NHS. She also added that Ayushman Bharat's conception, implementation and future expansion must be with the most vulnerable and most marginalised people in mind to start to address the huge inequalities that exist.
Other notable dignitaries who spoke on the occasion were Mr. Jayesh Ranjan, IAS, Principal Secretary to Government of Telangana, India who also co-chaired the session on Pharma and MedTech along with Mr Madhukar Bose, Deputy Head of Healthcare, British Department of International Trade.  This session focussed on the opportunities for British companies to invest in India, and take advantage of the healthcare revolution in the country where the size of the Healthcare industry is exected to grow to USD 280 Billion by 2020. Mr. Jayesh Rajan spoke on the emerging MedTech and Pharma opportunities in India and how British Companies could capitalise by having a footprint in the Hyderabad ecosystem. And Mr. Madhukar Bose addressed the collaboration potential between India and the UK, and also highlighted the barriers that companies face, assuring that both governments are committed to finding solutions for the same.
Prof. Asif Ahmed, Founder, Aston Medical School and MirZyme Therapeutics and Pro Vice Chancellor & Executive Dean, Aston University, Birmingham spoke about the research conducted to help pregnant women suffering from Preeclamspsia. Prof. Wasim Hanif, Department of Diabetes, UHB NHS Foundation Trust  sought to establish that India-UK relations in the healthcare sector is a two way partnership and mentioned two case studies relating to management of diabetes. Prof Darius F. Mirza, Consultant Hepatobiliary and Transplant Surgeon, UHB NHS Foundation Trust spoke about his experience in setting up a transplant program in Apollo Hospital in Mumbai and the need to share the available technology in UK with India.
Mr. Krishna Kanumari, Managing Director & CEO, Sai Life Sciences Limited said "As a natural progression, our R&D Centre in the UK will help create significant downstream opportunities for the manufacture of high-quality APIs and Intermediates, from our India operations for the global markets, helping us be a growing part of our government's vision to Make in India." Mr. Paul Uppal, Small Business Commissioner and ex-Member of Parliament, Wolverhampton spoke about the need to provide support system to small and medium businesses. Life sciences are one of the most innovative sectors in the UK. With a young demographic populous of over a billion people there is a natural synergy in combining the best of British academia to Indian potential. Dr. Someit Sidhu, CEO, Izana Bioscience Ltd., spoke about the clinical trial of a drug for treating Ankylosing spondylitis and the efforts of his company Izana biosciences to find a remedy for this debilitating and highly painful and incurable disease
Dr. Someit Sidhu, CEO, Izana Bioscience Ltd., spoke about the clinical trial of a drug for treating Ankylosing spondylitis and the efforts of his company Izana biosciences to find a remedy for this debilitating and highly painful and incurable disease
Ben Reid, Chairman, Shrewsbury and Telford Hospitals NHS Trust spoke about the potential expansion of collaboration with Sir Gangaram hospital in New Delhi and possibilities of how the two institutions can collaborate together. Dr Ramesh Mehta OBE, President of the British Association of Physicians of Indian Origin (BAPIO) said  "With Brexit we have the opportunity to improve UK -India collaboration in Healthcare. BAPIO is committed to assisting in improving shortage of clinical workforce in both the countries. We are also keen to support Ayushman Bharat project and discussions today have been very useful. " Dr Ajay Rajan Gupta shared the progress made by IUIH which is the single largest project of its kind envisaging the setting up of 11 greenfield hospital facilities in India in partnership with NHS.
Dr. Shashi Baliyan, Managing Director, Clearmedi Healthcare shared the story of his several healthcare ventures in India which are importing European business models to upgrade the quality of healthcare delivery in India. He said that India is the place to invest in Healthcare specially after the launch of Ayushman Bharat. The new healthcare scheme has put in nearly GBP 5500 pounds in pocket of people who could not afford treatment  earlier. British companies should react fast to serve more than 500 million people covered by world's largest universal health scheme.
Other speakers of the day included Mr. Chris Loughran, High Sheriff West Midlands & Deputy Chair, Greater Birmingham & Solihull LEP, who emphasized on the word 'partnership' and mentioned Greater Birmingham to be the right place to invest in clinical research and innovation. Ms. Julia Ross, CEO for BNSSG Clinical Commissioning Group, spoke on the challenges she faced in her role. Prof. Kiran Patel, Medical director, NHS England – West Midlands, said, 'The NHS is well placed to play a crucial role in strengthening global health systems.
The education and training the NHS is able to offer- will enable countries such as India a great opportunity to develop a skilled workforce which is able to meet the needs of not only the individual professionals aspiration, but also the needs of the healthcare system. I look forward to creating the process and opportunity to enable healthcare professionals from India to come to the UK and vice versa, in order to strengthen both of our health systems.'
Prof. Philip Baker, Dean of Medicine, University of Leicester presented the ongoing implementations of clinical care, clinical training initiatives, and research collaborations with India. Ms. Lakshmi Kaul, Confederation of Indian Industry (CII) stated, "India's life sciences industry has traversed a successful journey in the past 50 years. Currently the fourth largest employer in India, the healthcare industry is expected to see a threefold jump in value terms to reach $ 372 bn by 2022.
Growing incidence of lifestyle diseases, rising demand for affordable healthcare delivery systems due to the increasing healthcare costs, technological advancements, the emergence of telemedicine, rapid health insurance penetration and government initiatives like e-health and Ayushman Bharat are some key factors driving the industry in India. Known as "pharmacy of the world", India's pharmaceutical industry with a CAGR of 12.8%, is estimated to reach $55B in 2020. With 100% FDI allowed under the automatic route for greenfield projects, India has also become a favourable destination for global FDI projects".
Dr. Aman Puri, Consul General of India, Birmingham in his closing remarks announced that this Conference is likely to become an annual feature. In his address Dr.Puri stated that, "Indians form the single largest group amongst foreign origin healthcare professionals serving in the NHS. No doubt, they can become the catalyst for taking UK – India collaboration to another level". He congratulated the team and thanked the speakers and the delegates for making the conference a success.