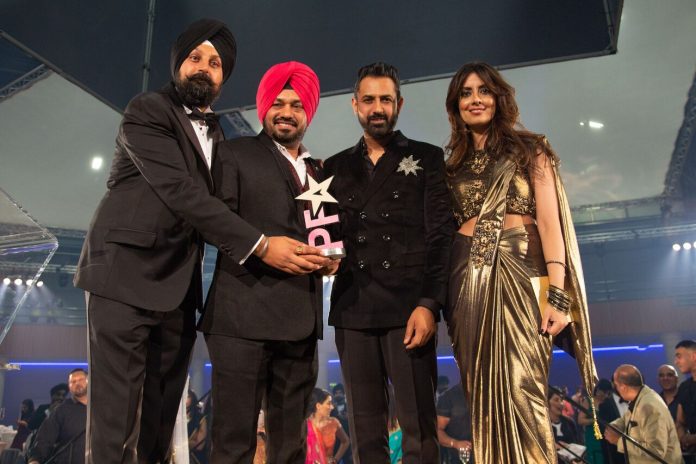 Actor, Freelance Presenter/Socialite Surj Kumar spent an evening with the Punjabi Film Industry at the Inaugural BritasiaTV Punjabi Film Awards. Have a read of what he thought.
---
It was a night of high expectations as the elites from the Punjab Film Industry graced the Midlands for the first ever BritasiaTV Punjabi Film Awards which was held at the International Convention Centre in Birmingham on Saturday 12th March.
An event of such proportion and magnitude and for the first time outside of India meant that the UK and Midlands were in for a treat!
Hosted by the ever-unpredictable Jasmine Sandlas with dazzling performances from Punjabi Actors and Singers Harrdy Sandhu, Sharry Maan, Sunanda Sharma and Midlands own Gurj Sidhu to complete the lineup. In attendance were UK singers JK, Raxter, H Dhami and BBC Asian Networks Noreen Khan.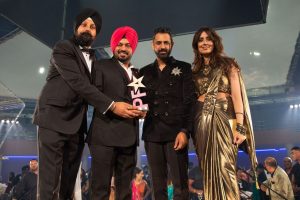 Actor Gippy Grewal was delighted as the movie "Manje Bistre" picked up a series of awards on the night.

The soulful Satinder Sartaaj picked up the Outstanding Achievement, while British Punjabi actress Mandy Takhar picked up the Inspiration Award. Renowned Punjabi comedian Gurpreet Ghuggi went on to pick up the Special Recognition Award.
Full List of Winners
Best Female Playback Vocalist: Nimrat Khaira (Dubai Wale Shaikh)
Best Male Playback Vocalist: Diljit Dosanjh (Ho Gaya Talli)
Best Supporting Actress: Nirmal Rishi (Nikka Zalidar 2)
Best Supporting Actor: Karamjit Anmol (Manje Bistre)
Best Film Song: Dubai Wale Shaikh (Manje Bistre)
Best Soundtrack: Sardar Mohammed
Best Cinematography: Chakravarty (Sardar Mohammed)
Best Actress: Sargun Mehta (Lahoriye)
Best Actor: Gippy Grewal (Manje Bistre)
Best Director: Baljit Singh Deo (Manje Bistre)
Best Comedy Performance: Karamjit Anmol (Manje Bistre)
Best Film: Manje Bistre
The night was complete with cheers of celebration and excitement as fans and sponsors took to the dance-floor to mingle, dance and enjoy this moment of history!.
Tony Shergill, CEO of BritAsia TV, said: "This achievement and milestone moment belongs to all Punjabis around the world, thank you to all the Sponsors, Performers and Actors that made this amazing event come true to create history in the UK. The Punjabi Film Awards 2018 was held for the first time in the UK, in the city of Birmingham and we will continue to work harder for 2019, which may take place in London next year.

Review By Surj Kumar
@Surj_kumarShow
Pics courtesy of Silver Fox Productions