Birmingham, April 2018: Multi-award winning philanthropist Sajid Rashid BEM is set to 'fly like a falcon' along the world' longest zip wire, later next month, for war torn Aleppo and to help him raise as much money as possible, Sajid has put together three back-to-back fund raisers in the space of four weeks to combine his fund's for childrens education including hifz in Aleppo. One local fundraising event in Burton on Trent in Sajid's hometown in which he raised £1516.80 and two in Birmingham which are set for this coming weekend below;
Currently Raised figure – £11,781.80
The magical world of Wibbly Wobbly World of Play in Birmingham allow's families and children to bounce, race down slides and those b
ig kids looking to get away from the stresses of work can forget their worries in a pop-up ball pit.
All ticket donations go to Sajid's fund raising donation pot. Tickets are priced at £3 for adults and children and are available at the door. There will be a variety of over 20 different stalls on the day to cater for all different tastes.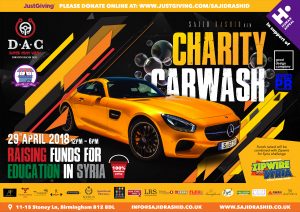 Shezad Zaman from D.A.C car wash are Birmingham's number one super foam car wash as well as the fundraising partners, where they will be offering their services to wash cars on the day with the funds raised donated to Sajid's cause. They will see the community unite and come together to witness one of Birmingham's biggest car washes with supercars and vintage cars in attendance.
Sajid Rashid says "Every year I try to undertake at least one challenge to raise funds for different charities and causes, to help improve or better lives locally and internationally for the under privileged.  Putting a smile on these faces is what drives, excels and motivates me to strive further.
"Together we can raise awareness and funds to help these children. Living in the UK, we are fortunate enough to have a roof over our heads and food on the table, however the crisis in war torn Syria means children suffer from necessities we take for granted."
Funds raised from the "Family Fun Day'' & "Birmingham Charity Car Wash" will be combined with this Zipwire challenge later next month. The Zipline Challenge will take place on Wednesday 9th May 2018 where Sajid Rashid along with his friend Omar will be ziplining on the Jebel Jais zipline, in the mountainous region of Ras Al Khaimah, UAE.  Certified by The Guinness World Records, the Jebel Jais zipline is 2.8 km long and provides the closest experience to flying like a falcon crossing the skies of the mountains at 1680 metres from the ground, and at speeds reaching up to 150 km per hour.
The cost of the zipline will be waived by The Ras Al Khaimah Tourism & Development Authority (RAKTDA) in return of promoting the region for its adventures and tourism. Sajid will be taking un-paid leave from work whilst away on this challenge in addition to his own flights and accommodation which will be funded at his own expense so whatever he raises will be going directly to Human Appeal 100%.
To donate and sponsor Sajid, click on the link here:
www.justgiving.com/sajidrashid
The video is available at: