We are delighted to bring you an interview with Safaraz Ali, the author of Canny Bites: 52 Bites for business leaders and entrepreneurs
Safaraz, please tell us about your recent book and its success: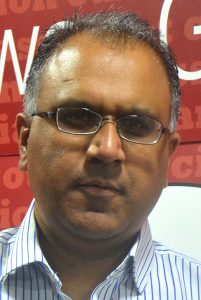 Its my first book and I'm delighted to be  asked to be featured here I've been working on for the best part of this year and am very proud to have finally got it released, The book is called Canny Bites: 52 bites for business leaders and entrepreneurs,  and is available now on Amazon!
Like many people, I've been thinking about writing a book for many years. This year, I simply said to myself "I'm going to make it happen" – and here I am, on my leadership journey, hitting a personal milestone.
The inspiration for the book came from my desire to share knowledge and encourage learning – something which I have always been passionate about. Last year, I started the journey by launching the concept of Canny Bites in  short video format with the  aim to share know-how and practical advice in a way that is quick, easy, and memorable. In a world where we're constantly struggling with information overload, I wanted to create something that helped business people fit learning easily into their day.
From there, the idea of creating a book which was built on the same premise was born, and 'Canny Bites: 52 bites for business leaders and entrepreneurs' began. Now the book is finished, and I'm incredibly happy to finally be able to share it all with you.
Thank you for sharing the start of the journey but why 'Canny Bites'?
I wrote 'Canny Bites' with business owners and entrepreneurs in mind, although many of the lessons are valuable to any busy professional who struggles to keep developing their skills as I wanted to reach those who didn't have the time to fit education into their day-to-day lives. Topics I covered include getting the most out of networking, effective goal-setting, managing teams to help them reach their potential, and learning to become a better leader.
The concept of 'micro-learning' is something I've always been interested in, and the benefits it can offer you are huge when it comes to our busy lifestyles.
So what is micro-learning?
The idea behind micro-learning is the creation of a short, focused learning bite designed to help you reach a certain outcome or learn more about a certain topic. These are often presented in many different formats (such as video, the written word, or interactive training) depending on the desired goal, and are easy to access, understand, and apply.
There are many reasons why micro-learning can be beneficial. According to the "Forgetting Curve" by Hermann Ebbinghaus, we forget 80% of what we learn within 30 days of learning it! Some of the benefits for individuals and businesses in learning in this manner include:
It's centred around the learner – learning in small chunks means you can be flexible in when, where, and how you work, which means individuals can use the information to match their learning style.
It takes up less time – who wouldn't want more time to learn? Micro-learning is great because you can learn a lot of information in a small amount of time, without you having to dedicate all your attention to one thing for a big period.
The learning is accessible as and when the learner needs it – if you've got a problem to solve, you can simply reach for the education resource there and then to help you work it out. Whether you're on the bus, or at home, micro-learning resources are designed to be digested in all kinds of situations.
It can be easily updated – rather than investing 12 hours into a training day which could become obsolete or less relevant in 6 months or a year, micro-learning is additive process, where you're always able to build on or update your knowledge.
And these are just the benefits for learners – businesses can benefit from micro-learning because it's generally more affordable, can be fit into a busy work day without interrupting usual activity, and can have a pretty high impact on learners by getting them to focus on one thing at a time.
Any final thoughts and messages?
As for my book, I just wanted to say that I have been privileged to meet so many people on my journey, and each one of has made an impact on me in one way or another. From my family, to those I've met during my career, and my team at Pathway Group, I want to say thank you.
I hope that my book offers the same benefits to all those who open it. It's been a pleasure to work on, and I'm excited to finally share it with you all.
Canny Bites: 52 bites of business wisdom for business leaders and entrepreneurs is now on Amazon and can be purchased as below:
You can get your copy here for £11.99 (paperback) or £4.99 (Kindle).