Black, Asian and minority ethnic children caring for sick or disabled family members are being let down by the agencies – including schools, local authorities and health services – that are supposed to support them, says Barnardo's.
Research by the UK's leading children's charity shows how many children who are shouldering an extra burden as young carers by looking after their loved-ones continue to be unidentified and unsupported.
But young carers from BAME communities face extra challenges and can be even more hidden than other children who care for family members.
This is despite some children and young people carrying out more than 30 hours a week of caring responsibilities* – almost the equivalent of a full-time job – and filling in the gaps left in adult social care.
Barnardo's research shows how schools, local authorities and health services are continuing to fail to identify young carers and refer them for support.
Barnardo's vice president Baroness Floella Benjamin of Beckenham, who spoke about young carers in a Parliamentary debate on Thursday (December 14), said:
"Barnardo's new report, Still Hidden, still ignored – who cares for young carers? shows how children who look after sick and disabled family members are still being let down by the agencies that are supposed to help them.
"Children from all communities often struggle unidentified and unsupported with their caring responsibilities but we know that this lack of support is even more acute for BAME young carers.
"They are more likely than other children to take on caring roles and may encounter language and cultural barriers that mean families do not seek support.
"Schools, local authorities and health services need to engage BAME communities to identify young carers and overcome these barriers so all young carers can be supported and children's caring responsibilities can be reduced."
Under the Care Act and the Children and Families Act, teachers – and other professionals working with children – have a statutory duty to identify young carers and refer them to the local authority to be assessed for support.
But Barnardo's has found that despite recent changes to legislation which have led to more young carers being identified, there are still children with caring responsibilities slipping under the radar. And cuts to local authority budgets have meant that more and more children are taking on more and more caring responsibilities.
As part of Barnardo's research, a YouGov poll of 800 teachers** found that 40 per cent of teachers were not confident they would be able to identify a young carer in their class. More than a third (34%) of teachers surveyed thought there were young carers at their school who were not sufficiently supported and almost a third (29%) said they didn't think their school had any particular ways of supporting young carers.
In a survey of young carers in Barnardo's services only 5% said that a GP had identified them.
Young carers are 1.5 times more likely to be from BAME communities and twice as likely to not have English as their first language, according to the 2011 census.
Research by Carers UK also shows that adult BAME carers were less likely to receive support both financially and practically, often because of difficulties accessing culturally appropriate information and a lack of engagement with these communities. In research last year the Children's Society stated that BAME young carers were 'hidden' from services.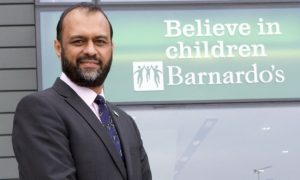 Barnardo's Chief Executive Javed Khan said:
"BAME children and young people are among the most disadvantaged in the UK and BAME young carers are a particularly vulnerable and often overlooked group.
"There needs to be a concerted effort by schools, local authorities, health services and young carer services to work together to provide specialist support for BAME young carers.
"Many children feel stigmatised because of their caring roles and this can be even more pronounced in some BAME communities. More needs to be done to reduce the stigma of caring and open up support for young carers from BAME communities.
"Looking after their family members is something that our young carers are incredibly proud of but it shouldn't be at the expense of their childhoods or their futures."
Young carers carry out tasks including cooking, cleaning and shopping, as well as providing intimate personal care, administering drugs and taking care of household finances.
YouGov's poll for Barnardo's found that nine-in-10 teachers thought caring responsibilities could impact negatively on young carers' school lives as it could mean they were late or absent from school or have trouble keeping up with work.
Barnardo's research with practitioners working to support young carers has shown that caring can also take a huge toll on children's mental health, as well as their achievement at school.
More than three-quarters (75%) of the practitioners Barnardo's surveyed in its young carers services said that most or all of the young carers they had supported had suffered from anxiety, depression, isolation and feelings of anger. All the practitioners had worked with children who had self-harmed.
This Festive season Barnardo's is asking people to donate to help reduce the burden on young carers and has produced a short film based on the experiences of Megan, who looks after her mum and little brother Ben.