Cityserve, the organisation behind 70,000 school meals across Birmingham each day, is marking National School Meals Week with the official launch of a brand new state-of-the-art learning and development centre at its headquarters in the city.
The centre, based at Cityserve's Birmingham headquarters in Birmingham Science Park, will become a hub for training for catering staff from schools across the city, as well as other organisations from across the region and beyond.
The accredited Qualsafe Training Centre, which boasts state of the art presentation technology, a lecture theatre, break-out spaces, meeting rooms and a refreshment area, was officially opened by Birmingham City Council's Cllr Majid Mahmood on the first day of National School Meals Week.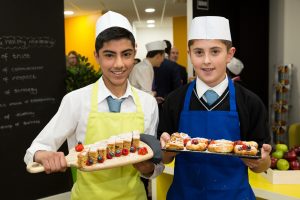 Guests also included Cityserve staff from Midlands schools as well as children Wheelers Lane Technology College in Kings Heath and Turves Green Girls School in Northfield.
Dale Wild, Head of Service at Cityserve, said: "The launch of our Learning and Development Centre is the latest milestone in our ongoing work to make Cityserve the best in the business.
"This new centre will allow us to offer a whole range of training for our own staff as well as other organisations who want to take advantage of a bespoke learning environment in an accredited Qualsafe Training Centre.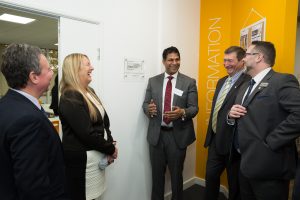 "We're looking forward to welcoming our staff into the new centre and to talking to other organisations about how they can take advantage of our state-of-the-art resource to help them reach the high standards that we aspire to here at Cityserve."
Cityserve, Birmingham City Council's Foodservice division, already delivers in-house industry-specific legislative and compliance training to more than 2,000 catering staff from 280 Birmingham schools, as well as in-school and central training via its team of expert development chefs at its highly successful development kitchen CityKitchen Live.
The new Learning and Development Centre provides a dedicated space for training and a bespoke learning environment that can be tailored to its users' needs, making it the ideal place for employers and organisations to stage courses and training days.
"I was honoured to cut the ribbon for this amazing Learning & Development Centre – the latest step in Cityserve's journey to become the leading municipal foodservice provider in the West Midlands and beyond.  As well as supplying children with excellent and healthy school meals, this new facility offers industry-class accredited training to their 1400 strong catering workforce and now to the wider food-industry as a commercial venture." Councillor Majid Mahmood
Cityserve is running a range of activities to mark National School Meals Week, which runs from November 13th-19th. These include Host a Roast where Cityserve will join schools from across the nation in Food for Life's National Roast Dinner Day on Wednesday, November 15th.