Balachandran Kavungalparambath, 38, a business manager at Citibank in East London has been given a 15 month sentence for attempting to meet up with a young 14 year old.
Online chats show numerous messages shared between the 'Internet Interceptors', who posed as the 14 year old girl and Mr Kavungalparambath himself. Mr Kavungalparambath flew from London to Birmingham, checking into a hotel where he was expecting to meet the young girl, but was instead confronted by Internet Interceptors, the team that hunts paedophiles.
Two months after this confrontation the Internet Interceptors exposed Balachandran Kavungalparambath through a live Facebook video, which lead to his sentence, followed by his deportation back to India.
Balachandran Kavungalparambath groomed the girl via Whatsapp, convincing her to have sex with him and explaining how her first sexual encounter would be painful.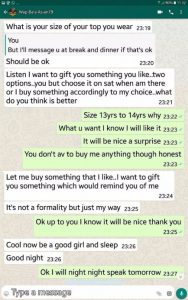 Mr Kavungalparambath is married and a father, denied any intention to have sexual intercourse with the girl; he claimed he only want to have lunch with her and assumed she was 18, blaming her saying that she invited him to come over to the hotel room.
"But as I said, I was supposed to have a chat with her, it was not with the intention of getting her into a bed and having sex with her," he said.
His alleged intention was brought to light as the messages including direct sexual references were read out. The sexually explicit chat revealed Mr Kavungalparambath's yearning to perform sexual acts which was enough evidence to convince the court of his crime.
"I have to leave the country and I will lose my job. I am from India." Kavungalparambath was heard crying and pleading to the Internet Interceptors and later admitted his intention was to have sexual intercourse with the girl.
A pack of condoms and a perfume were found in Balachandran Kavungalparambath's bag; he claimed the perfume was a gift for the girl and his objective was 'not to make [her] pregnant' yet the meeting was to end with them 'making love'.
The Internet Interceptors said that they had little information on Kavungalparambath. "We called his wife and informed her about this, but she hung up on us."
Internet Interceptors posted a one hour long video of Mr Kavungalparambath getting arrested. Balachandran Kavungalparambath will be listed on UK sex offender register for 10 years and will be given a 10 year sexual harm prevention order. He will be deported back to India after serving his sentence. Citibank has disclosed Mr Kavungalparambath is no longer an employee.