Though known as the festival of lights, Diwali is all about family bonding, welcoming in the New Year with your loved ones and feasting on homemade traditional delights. Being the most important festival in the Hindu calendar, families in the UK go all out and celebrate the day with as much chutzpah and reverence as they would in India for example.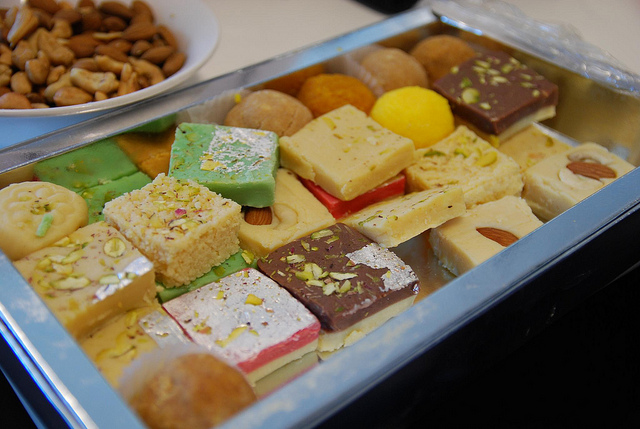 When Uma came to London in 1974 as a teenager she missed the excitement of Diwali, "It was my first Diwali here in the UK and I had to go to school, which in India is unheard of because it's a holiday and we spend it with the family!"
But as time went by and after getting married, she ensured that she celebrated every Diwali in a grand manner with her in-laws, "Diwali is a special occasion and my family of 35 and I ensure every year we all come together to cook, eat, dance, celebrate and make the most of Diwali."
Initially, she was worried about whether her children would also follow the Diwali traditions as she did as a child, but not anymore, "the youngest in our family is 10 years old and the oldest is 84, it's amazing to see the same enthusiasm for Diwali across the generations.
Last year she hosted her entire family of 35 at home, "It was brilliant," she exclaimed. "I started the day with a Puja, then all the sister-in-laws came together to paint rangoli while the children burst crackers, then we all sat down for one big feast. It was a celebration of the true spirit of Diwali!"
Reminiscing about her time in India, Manavi said, "The entire city used to light up and I remember my mother making farsans and mithai's at home from scratch. When I came here ten years ago, it was the family bonding, the spirit of the community and my mother's food that was missing. It felt like no one celebrated Diwali here!
With her brother and sister-in-law recently moving to London, Maharshi now ensures that she follows her mother's traditions whether it comes to making mathris or besan ka laddoos, so she can make them feel at home.
While some try to recreate the festive feel here in the UK, for others, Diwali is a whole new experience. When Manisha came here five years ago, she was surprised to see her mother-in-law cooking everything from scratch during Diwali, "In India we used to buy sweets and snacks from the nearest shop. But over here my mother-in-law cooks everything at home. Under her guidance I started cooking as well and for the first time I made besan barfi. It was such a memorable experience, and when the family praises your cooking it's just another feeling altogether.
"Last year we had a big Diwali dinner at home, and guess what was on the menu? My favourite Besan Barfi and everyone loved it! When people praise your cooking, it makes you feel proud of yourself.
"Being Punjabi, we also had chole bathure on the menu. This year, we have relatives coming over again. Although we have spanned many generations and many different stories, these families share one thing in common; the desire to celebrate Diwali the way they did in their home born countries. This is achieved with home cooked traditional food, family bonding, and lots of fireworks.