A fashion student at Birmingham City University (UK) has designed a huge bra for Birmingham's 'Floozie in the Jacuzzi' to wear this month, as part of a campaign raising awareness of breast cancer.
The Floozie in the Jacuzzi's official name is 'The River' and is part of a set of sculptures in Birmingham's Victoria Square created by Indian sculptor, Dhruva Mistry, from Kanjari, Gujarat.
Working in conjunction with West Midlands-based charity, Ladies Fighting Breast Cancer, student Zoe Lockett hopes her giant bra will stop passers-by.
"I wanted to create something that was really feminine but also attracted a lot of attention," said Zoe, from Heath Hayes in Cannock.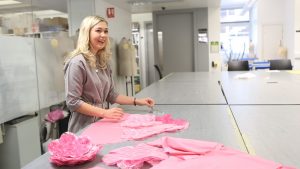 "I've added lots of flowers to the bra and it even has lights too. Hopefully it's quite a head-turner!"
Ladies Fighting Breast Cancer was established in 2000 and has helped to raise over £1 million for Birmingham Queen Elizabeth Hospital's cancer unit.
The charity hosts fundraising activities throughout the year, with all of the money staying within the West Midlands and helping breast cancer patients within a 70-mile radius of the QE hospital.
Veronica Kumeta, co-founder of Ladies Fighting Breast Cancer, said:
"Ladies Fighting Breast Cancer are very grateful to Zoe for all her hard work in designing and making the bra on behalf of our charity as we kick start Breast Cancer Awareness Month.
"We are very passionate about raising awareness of this disease as early detection saves lives and the bra is certainly going to help us raise awareness.
"We bought the first pink mobile mammogram unit in the country, based in Selly Oak, as we are always looking for ways to promote awareness of this terrible disease in our diverse community."
Zoe's bra will be seen on the Floozie in the Jacuzzi throughout Breast Cancer Awareness Month, which runs from 1 – 31 October.