Birmingham Weekender's return hailed as a huge success as an estimated 175,000 attendees participated in and enjoyed an amazing cultural extravaganza with events across the city from mac Birmingham to Eastside Park, from Victoria Square to the Bullring as well as on the city's trams. 
Brought to the city by Culture Central, the cultural development agency for Birmingham, Weekender demonstrates Birmingham's cultural ethos and spirit in anticipation of hosting the Commonwealth Games 2022.
Birmingham continues to cement its reputation for delivering significant cultural events with over 56% of attendees coming to the city especially for Birmingham Weekender with 57% of visitors travelling by public transport. Of those surveyed 41% were attracted by the fantastic programme of dance at Birmingham Weekender.
Day one, Friday 22 September saw audiences brave sunshine and showers to be part of Weekenders opening events. Commuters at New Street Station were brought to a standstill twice with two amazing performances by the full City of Birmingham Symphony Orchestra and their phenomenal musical director Mirga Gražinytė-Tyla. Rain did not stop Mrs Barbara Nice in getting people up on the dance floor as the Square Dance opened with the Alternative Office Party which included a fantastic conga across the square. Over in Cathedral Square the trees appeared to be talking as part of Tony Oursler's ethereal The Influence Machine, and in a car park near the Barclaycard Arena The Multi-Story Orchestra played a jaw dropping version of Beethoven's Fifth.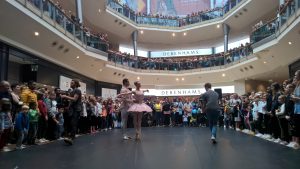 Day two, Saturday 23 September, saw the city come alive as the clouds cleared and thousands lined the streets bringing out the sun as the Colours of Birmingham Parade danced, drummed and marched from the high street to Victoria Square all led by the beautiful and ingenious mechanical elephant, Harminder. The city pulsated in shops and in squares with the entire Bullring coming to a standstill for Birmingham Royal Ballet with crowd after crowd experiencing ariel dance, contemporary dance and Kathakali dance, supported by Dance Hub Birmingham, as well as joining in with barn dance, northern soul and a spectacular, hip swinging Caribbean carnival extravaganza. New and emerging singers, comedians and rappers showcased what it is to be a Brummie on the Culture Catwalk stage in the heart of the city centre by the Bull.
Saturday nights highlight Clash of Drums filled Eastside Park with sound, strobe lights and phenomenal pyrotechnics – as 10 drummers cut through a crowd of thousands with a series of drumming confrontations before bringing everyone together with an explosion of noise and fireworks from the stage.
Day three, Sunday 24 September was wall to wall sunshine all afternoon as the Weekender audience experienced Alternative Village Fete, from epic dens over and under the market stalls to drag queens telling stories and some phenomenal DJ'ing from Ida Barr. Brummies, and Velo supporters, whiled away hours at the Bull Ring Open Market, making, dancing and hanging out, a quirky village feel in the heart of the city. The Musical Mystery Tour saw hundreds take part in a junk orchestra and take a back stage tour of the newly opened Royal Birmingham Conservatoire. Craig Charles packed out Square Dance with an amazing set which saw everyone – young and old – up on their feet dancing whilst the world-renowned Punjabi singer Hans Raj Hans brought the phenomenal weekend to a close bringing the audience to its feet in a joyful finale to an amazing Birmingham Weekender.
Graham Callister (Birmingham Hippodrome) and Piali Ray (Sampad) Festival Directors said: "The joy of Weekender was not only the performances by local and international artists and organisations but the reactions of the watching crowds and their overwhelming response to what they experienced. It has been incredible to see the people of Birmingham and beyond, turn out day after day, performance after performance to be part of what has been an amazing return for Birmingham's biggest arts festival."
Gary Topp, CEO Culture Central said: "Birmingham is a city of incredible emerging artists and phenomenal world-class organisations who, over the last three days, have created amazing experiences and performances from music to dance to theatre. How fantastic that through working collaboratively the city's cultural sector has brought hundreds of thousands people onto the streets for Birmingham Weekender."
Sponsors included Colmore BID, Mailbox, Bull Ring Markets, BCU, University of Birmingham, and Selfridges alongside funding support from Birmingham City Council, Arts Council England and Birmingham Retail BID in what was a genuinely city wide collaboration ahead of and during Weekender.
Birmingham Weekender 2017 is proud to be part of Utsav, Birmingham's Year of South Asian Culture.
#BirminghamWeekender
Facebook: BhamWeekender
Twitter: BhamWeekender