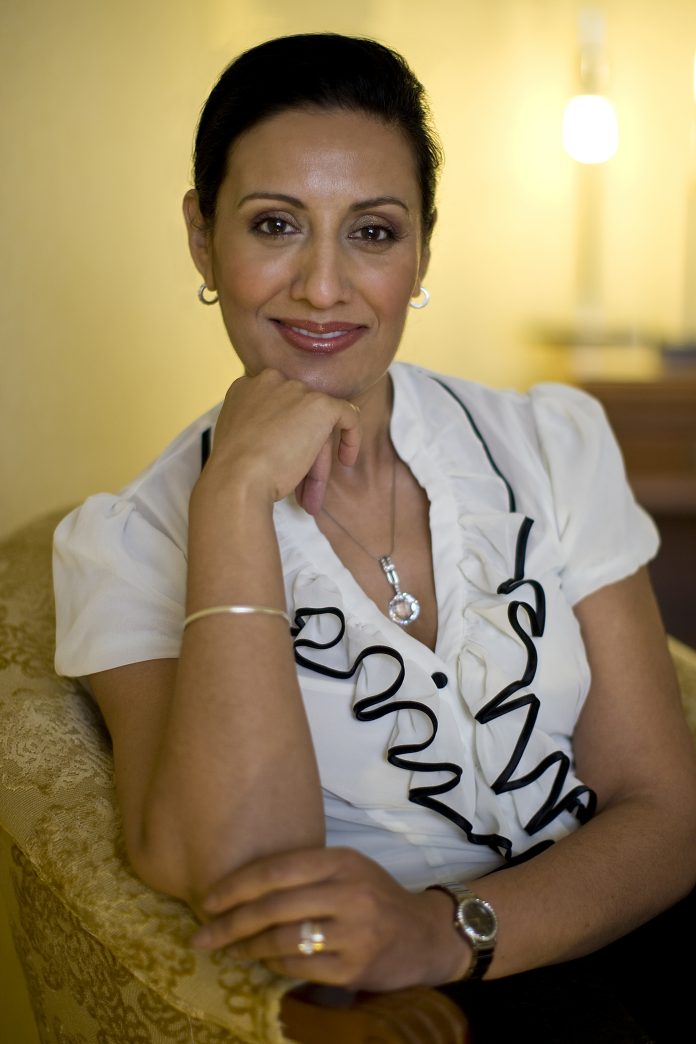 Dr Kamel Hothi, Head of Responsible Business Special Projects, Lloyds Banking Group has been recognised by the Queen in this year's Birthday Honours list with an OBE for her service to Diversity in Banking.
The honours system recognises people who have made achievements in public life or committed themselves to serving and helping Britain. They'll usually have made life better for other people or be outstanding at what they do. The lists of who's received honours are published at New Year and on the Queen's official birthday in June.
Kamel migrated to Slough at the age of 6 from India with her family. Upon leaving school she found a job as a cashier at TSB (prior to the merger with Lloyds Bank) in Slough High St. She progressed up the career ladder becoming an assistant manager at Maidenhead and then went on to be their first Asian Bank Manager at Walton on Thames.
After managing several other branches, she became the Area Manager for Thames Valley covering 160 branches until the merger of TSB and Lloyds Bank when she was asked to support the merger and transferred to their head office in London. It was following the lack of diversity she witnessed in the City that influenced Kamel to speak up and take action. She was soon challenging views resulting in being invited to chair several committees and mentor individuals.
Kamel continued to work hard and break glass ceilings and now with 38 years' banking experience she is recognised for being the architect behind the Asian Strategy across Lloyds Banking Group. Her remits have included product development, cultural training, strategy and marketing, resulting in some very high profile sponsorships of over 30 national Asian events including sponsoring The Asian Jewel Awards & The Asian Women of Achievement Awards for seven years. It is through the sponsorship of such events that Kamel helped improve access to finance for Ethnic communities and creating platforms to acknowledge their invaluable contribution to UK society and the economy.
On the social agenda, post the riots, Kamel helped set up the Business Connector Programme with HRH Prince Charles's charity as well as the School for Social Entrepreneurs programme to name a few. More recently she was asked to lead some amazing projects including the Lloyds Bank's 250th anniversary campaign, Heading the Banks charities; 2013-14 Alzheimer Society, 2015-2016 BBC Children in Need and this year she helped on board Mental Health UK. Alongside this she has developed the skills volunteering strategy for 80,000 colleagues which is attracting the attention of the other corporates and the Cabinet office on the impact this is having on social agenda.
Finally, Kamel's other passions is developing a level playing field and is a regular key note speaker on the subject. She helped found the bank's Ethnic Minority Network and the mentoring programme which has been going strong for several years to help the Group understand the benefits of diversity in the workplace and with its customers from the top of the organisation down to front-line colleagues. Kamel designed and delivered her own cultural training courses to over 500 senior colleagues so to help them understand the Asian community and how they like doing business.
Her drive and enthusiasm to improve cultural understanding has resulted in Kamel supporting the Foreign and Commonwealth Office Report on Community Cohesion as well as chairing initiatives such as the Government's Procurement Task Force, producing a report advising agencies on how they can use procurement to leverage race equality and help Small Minority Ethnic businesses grow.
Jasvir Singh OBE & Founder of City Sikh Network said 'Kamel has been such an inspiration for the British Sikh community, and we at City Sikhs are extremely proud to have one of the leading members of our Advisory Board receiving this well-deserved honour.'
Her passion and commitment resulted in her receiving several awards from various sectors in recognition of her support for diversity and community cohesion across the years, including an Honorary Doctorate, Who's Who Award, 2010 Gordon Brown Diversity Award, NRI Professional Award and Asian Achievers Woman of the Year Award and this year was included in the FT top 100 BAME list to name a few.
All this Kamel balances whilst living in a traditional extended family with 3 generations under one roof; including her Mother in law, husband Sawaron an equally driven and successful Businessman. Their two sons Inderveer aged 30, Charanveer aged 26 who have taken over the baton from their father supported by two daughter in laws Priya an Assistant Head Teacher  in Slough and Parmy a (EMEA) Marketing Procurement Specialist for Disney.
In speaking about the recognition, Kamel Hothi says:
"I am truly humbled to be honoured in such a profound way but feel this recognition is for my parents who survived the partition of India and Pakistan – the biggest migration of refugees and brought us here to the UK to build a better life.
"My father was a civil engineer in India but unfortunately in the 60's his skills were not acknowledged.  He did struggle with this biasness and refused for me to go onto further education believing there was no point and arranged my marriage at 19.
"It was these experiences that have driven me to improve and create a level playing field for all concerned.  I just wished my parents were alive today to witness me receiving my OBE from the Queen so to prove that hard work is recognised regardless of your background."